After reading The Life Changing Magic of Tidying Up by Marie Kondo, I was highly motivated to get rid of stuff. I did not want any more junk in my home. I wanted to "tidy" up my home, as she so calls it. We will refer to it as decluttering for future reference, but it's all the same. The goal is to live in a space with things that you love; to live in a place where your possessions spark joy. So we decided we would try the KonMari Method to declutter our home.
The Beginning
The beginning is always the easiest part. What I mean by this is that the motivation and determination are kicking it and you think you are capable of accomplishing the impossible. The impossible being getting rid of stuff – even the really sentimental stuff. I started off this way too. But it doesn't last. So what then? Well, honestly, I kind of worked at it a little, but mostly put a pin in it. I took a break. I prioritized other things. And then I started reading Spark Joy and knew I needed to keep going.
The Process
If you haven't read any of Marie Kondo's books, I'll give a brief explanation of the decluttering process:
Komono (Office Supplies, Bathroom Items, Kitchen Items, Personal Items, Other Assorted Items)

Sentimental Items
This decluttering master swears by this process. "Tidying" must be done in this exact order, so that you can learn what sparks joy starting with the not-so-emotional objects.
The most important thing that the author continuously bring up is that this process isn't a room by room task. It's a "find everything from this category and go through the items one by one" kind of task. It's hard. And it is very time consuming. But it works, 100% of the time.*
*Keeping in mind that it has worked 100% of the time when she herself was coaching her clients.
The Challenge
I've decided to challenge myself to get through every step of the process before the new year. This will mean putting time aside on a daily basis to assess of all my things. Fortunately, I've already done numerous decluttering sessions of my possessions so it will be much less arduous than if I was starting from scratch.
The Plan
Before scheduling, I need to make a list of all the categories I will be decluttering. Here is my tentative/starting list for each section
Clothes
Tops
Bottoms
Dresses
Undergarments
Shoes
Hats
Scarves
Jackets
Seasonal
Costumes
Books
Paperbacks
Magazines
Recipe Books
Educational Books
Borrowed Items
Papers
Receipts
Filed documents
Mail/Flyers
Coupons
Komono
Toiletries
Relaxation/Pampering Products
Linens & Towels
Make Up
Hair Products
Utensils & Cutlery
Pots & Pans
Appliances
Storage Bins & Containers
Food
Decor
Jewelry
Hobby Items (Knitting/Crochet, Photography & Writing)
Gift Wrap & Bags
Stationery
Electrical
Laundry Supplies
Cleaning Supplies
Medicine
Sentimental Items
Travel items
Plush toys
Photos (print & digital)
Scheduling
Mornings have always been the most productive time of day for me. I've therefor decided to dedicate time to do my decluttering sessions in the mornings for the entire month of December.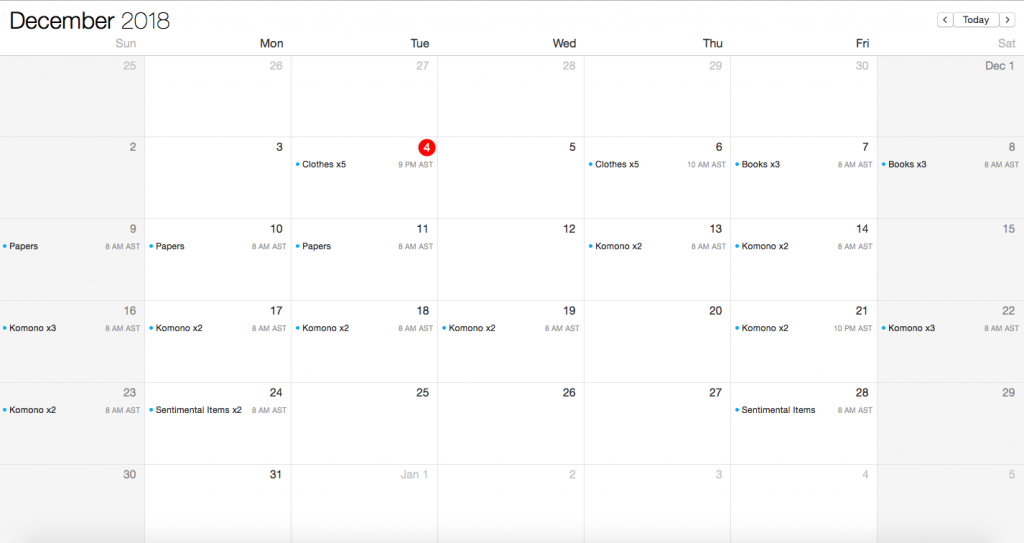 I hope that you'll follow along our attempt at following the KonMari Method to declutter our home so that only things we love will remain. If you haven't already subscribed to our blog, make sure to do so on the right hand side of the website. You can also subscribe to our Youtube Channel, where we will be sharing videos of our progress.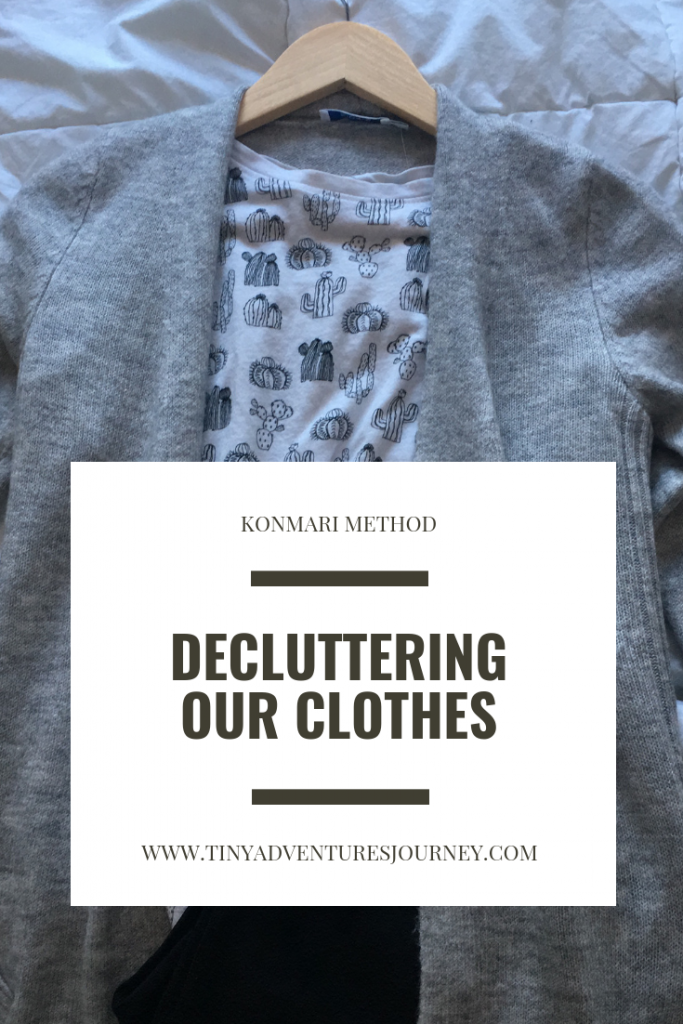 If you want to read more about the KonMari Method, you can check out this blog post from my friend Erin over at DIY Passion who did a review, one year after starting decluttering using the KonMari Method.