Another book has been checked off the reading list. The Life-Changing Magic of Tidying Up has been on my "To Read" list for a long time now, but I had never gotten around to buying it. I tried borrowing it from the library but I was on the wait list for a while. Finally it was my turn to read it, and it couldn't have come at a better time.
Review
Within the first chapter, this book completely goes against everything that was mentioned in our last book review, Organize Your Way: Simple Strategies for Every Personality. Marie Kondo start her book off by saying, "Tidy a little [every] day, and you'll be tidying forever." Her method focuses strongly on purging, getting a lot of work done in the same day instead of doing small repetitive things every day.
I agree with her second statement, wherein she says that storage is a booby trap – it just gives you a place to shove all your clutter, but you didn't actually do the work of decluttering. I think a lot of people get wrapped up in buying the newest storage solution for every room in their house, but the problem is that they have never sorted any of the stuff they're shoving into those storage bins and boxes.
It's really the author's third and fourth points that strongly contradict what was mentioned in Organize Your Way.
"Tidying by location is a fatal mistake."
Marie Kondo's entire method is based in this statement. Instead of cleaning by location, Kondo insists that the only method that will work is tidying up by category. This seems like a very interesting approach because it's completely different from every other book that's out there about decluttering and home organization. I was sceptical about the idea of decluttering by category, but after you start doing it, you begin to understand why this is indeed the best way to tidy.
The author goes on to say that you should not "change the method to suit your personality." Well there you go. Basically the exact opposite of Organize Your Way. Having said this, different methods may work for different people. However, I think there's a reason Marie Kondo is now known internationally, and that is largely due to her success.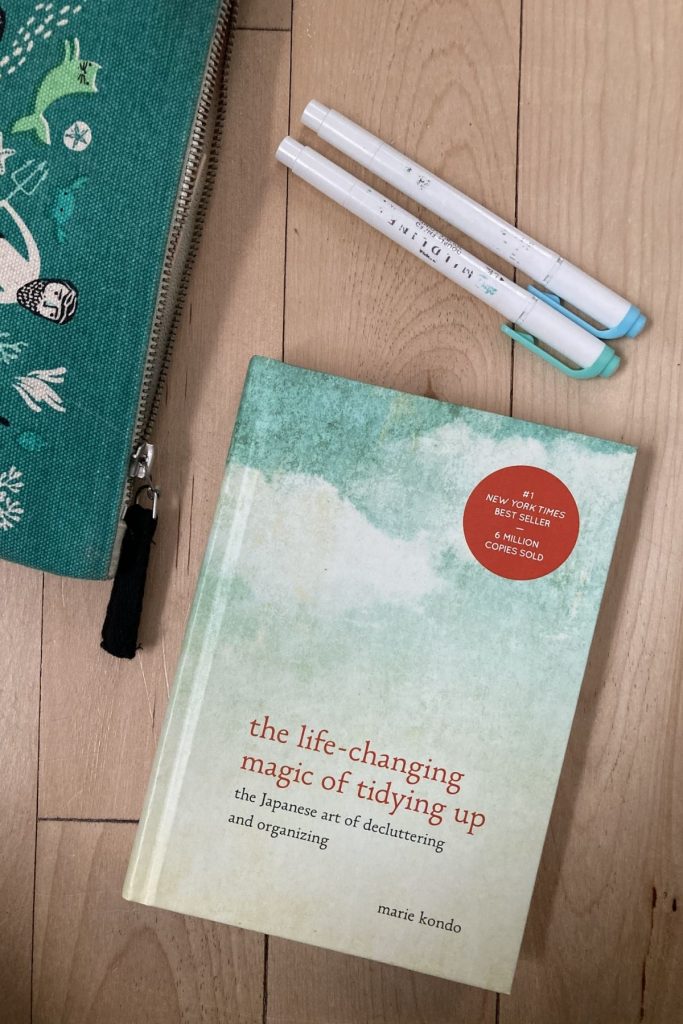 Thinking back now, I'm starting to realize that they may both be right. What I mean by this is that The Life-Changing Magic of Tidying Up is all about decluttering, with a touch of home organization after the purge is done. The home organization part of the book isn't really detailed, it just basically tells you that every item in your house needs a place to call home. The book Organize Your Way focuses solely on home organization, not decluttering, and explains how to keep your home organized according to your personality type in relation to other family members.
I think that you can take away important lessons from both these books, but let's dig a bit deeper into our main focus, The Life-Changing Magic of Tidying Up.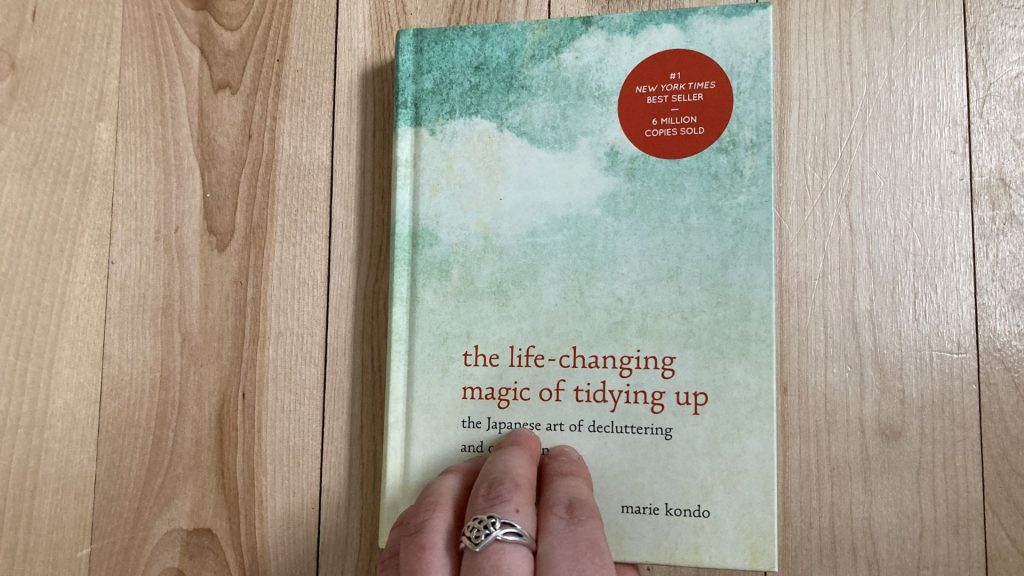 The KonMari Method, which is a combination of the author's first and last name, is a very specific process. It requires you to go through – and touch – every single item that belongs to you and decide whether or not it brings you joy. The author strongly believes that everything that surrounds you should bring you joy. So if something does not spark joy, it's time to get rid of it.
This method has a particular order in which it must be done:
Clothes
Books
Papers
Komono (miscellany)
Momentos
The book even goes into detail about each section and where to start. There's a full two pages about how to fold clothing properly and the best way to store them to maximize space – and it's impressively true!
I honestly love this book for so many reasons. And here's why:
IT'S UNIQUE
This book is unlike any other home organization or decluttering book I have ever read. It takes a very unique approach to getting rid of unnecessary junk that you've been holding on to for God-know-how-long. The author even goes as far as to looking through any items you may have left at your parents' house – now that's intense!
IT SPEAKS TO THE HEART
Decluttering with the KonMari method is a very personal journey. The author puts so much emphasis on the meaning of every individual item and the important of touching each one. She encourages readers to thank their possessions for a job well done, and finally make peace with the fact that maybe they have outlived their purpose with you. It's a really heartfelt project, and I know this because I'm slowly starting the process myself.
IT'S RAW AND HONEST
So few authors write with such authenticity these days, it was honestly quite refreshing to read something so honest. Marie Kondo is almost brutally honest in her writing, and rightfully so. Her approach is about commitment and perseverance, so you better be up for the challenge.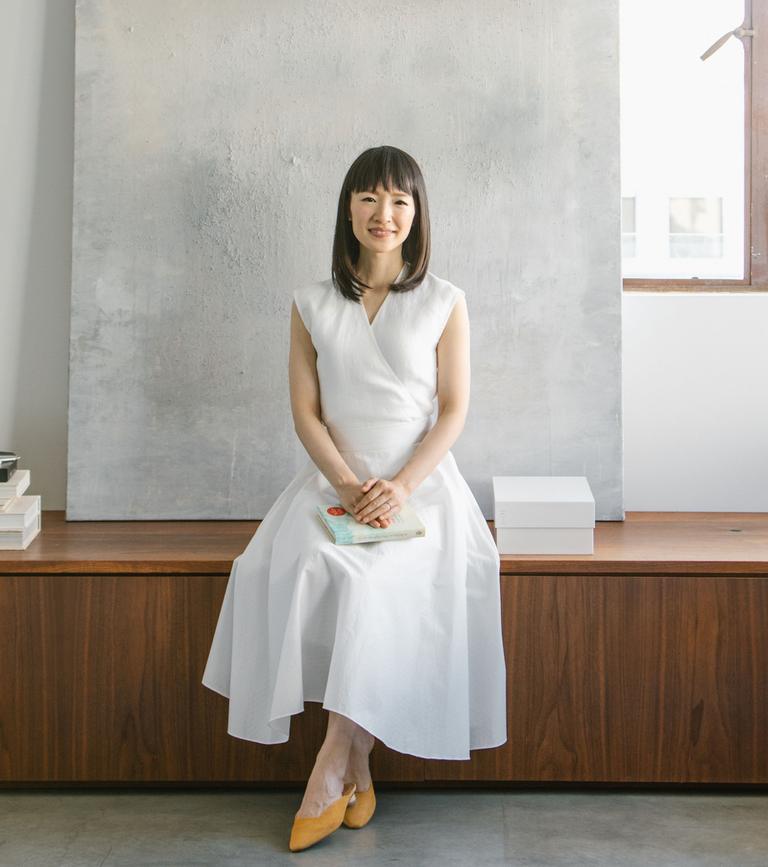 I could go on and on, but I think I've written quite enough already. I hope that if you haven't read this book before that you will go pick it up at your local library. It's a fantastic (and easy) read that could potentially change the way you look at your stuff, and help you get your butt into gear to start decluttering your home.
The Life Changing Magic of Tidying Up
Marie Kondo
★★★★★
Highly recommended, for everyone.
If you liked this book review about The Life-Changing Magic of Tidying Up, you might also like: