There is nothing I love more than shopping local during the holiday season. And though I have an endless list of recommendations, I reached out to a few of my favourites this year to feature in a NB Holiday Gift Guide.
*This gift guide is not sponsored. However, all the businesses mentioned have generously agreed to make a donation of products to give away to a local charity/non-for-profit organization. More about this at the the end of this post.
New Brunswick Based Businesses
The businesses featured in this post are all NB-based businesses, mostly in and around the Greater Moncton Area. Having said this, all of these company sell their products online. These great holiday gift ideas are accessible, sustainable, and budget friendly. I encourage you to learn about them through this post but also to explore their content online and give them a follow to support them in one way or another.

Bees Louise
In some of my Sustainability Posts, I mention some sustainable home items that I use, which includes beeswax wraps. My absolute favourite designs are by Megan, the maker behind Bees Louise. From her workshop just outside Sussex, NB, Megan creates a wide variety of beeswax wraps, as well as hand-dipped beeswax candles. You can view her full catalogue of products by clicking here to visit her website.
For those who are unfamiliar, beeswax wraps are sustainable alternatives to plastic wrap for food items. Each set of Bees Louise's beeswax wraps are held together by paper packaging, which includes an explanation of how to use them.
This particularly beautiful set will be featured in the upcoming giveaway to a local charity/not-for-profit organization.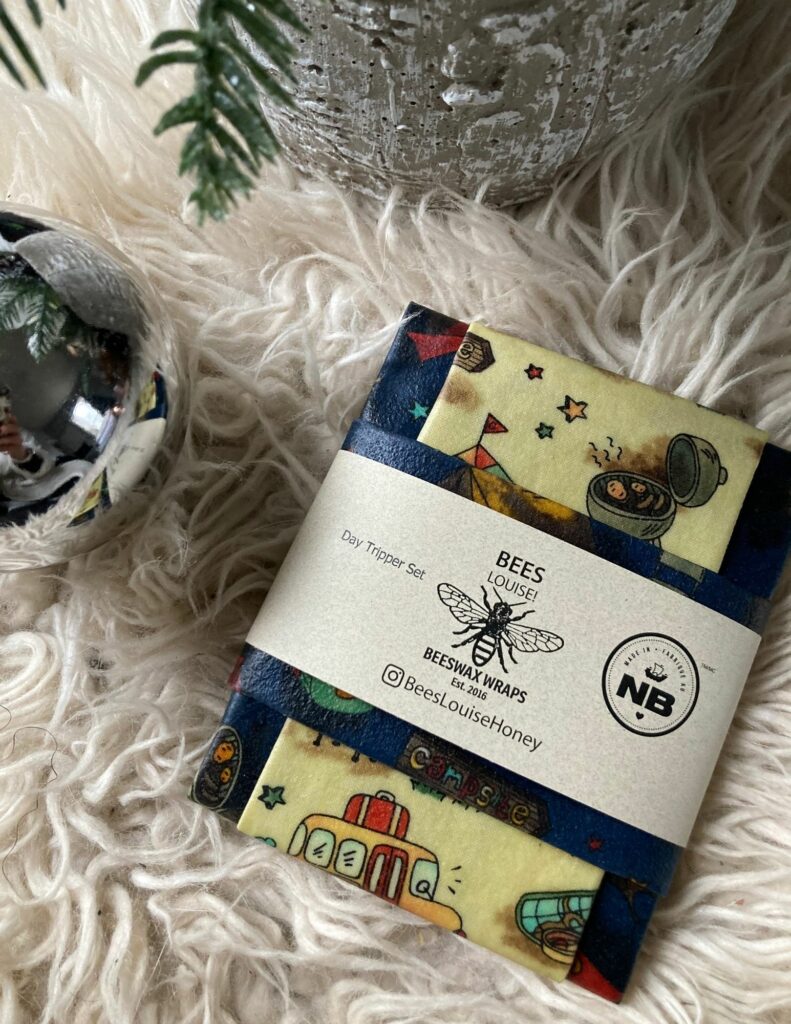 Make sure to follow Bees Louise on social media – FACEBOOK // INSTAGRAM // TIKTOK

Rosemary Wellness
A Moncton-based business that has been thriving in recent years is Rosemary Wellness. Erica and her partner started the company in 2016 and run their business in memory of Erica's mother who passed away from cancer a few years ago. To honour her memory, they stamp a heart into each soap bar, as seen in some of the products pictured below.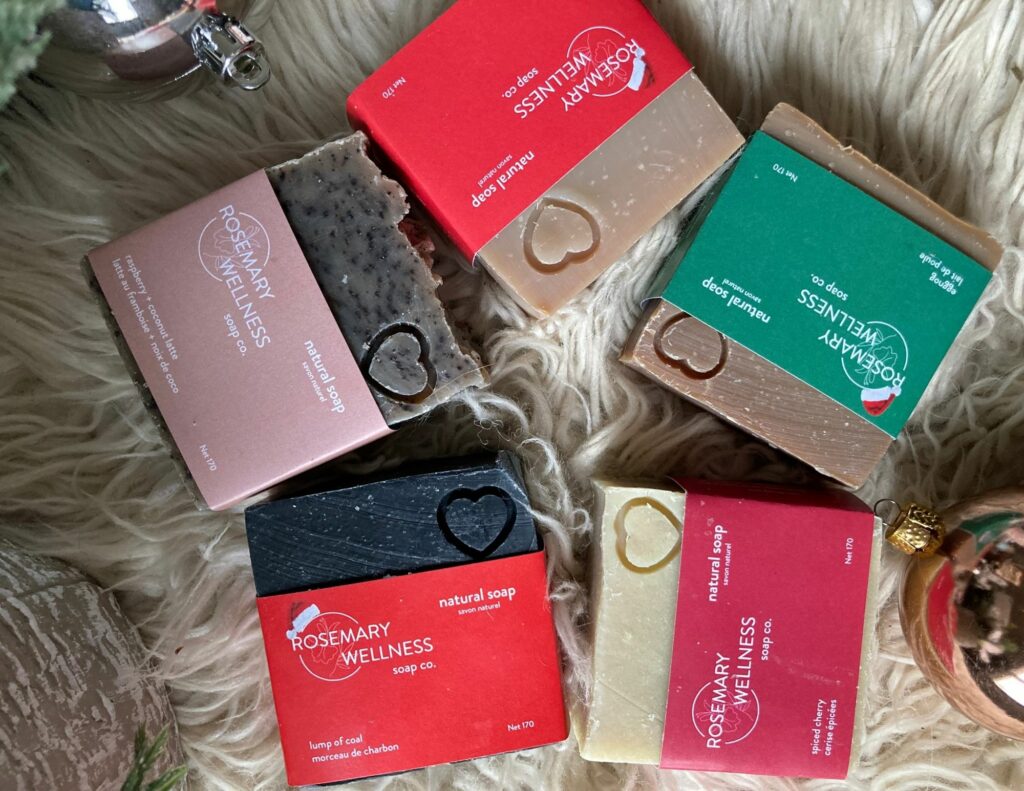 Caption: "My mother was the very definition of love. If you had the privilege of knowing her, you'll know that every time you pick up your Rosemary Wellness Soap, a little bit of love and positivity will surround you." – Erica, Rosemary Wellness (quoted from Rosemary Wellness' About Page)
You can find Rosemary Wellness products online, but they are also available at an abundance of local retailers (see this list from their website).
Rosemary Wellness is active on social media as well, where you can give them a follow – FACEBOOK // INSTAGRAM // TIKTOK

Ever After Acres
Another fantastic local and sustainable company is Ever After Acres. You may have heard of them in one of my recent posts, Low Waste Laundry // Sustainable Habits. My favourite product from their company is by far Soap Nuts.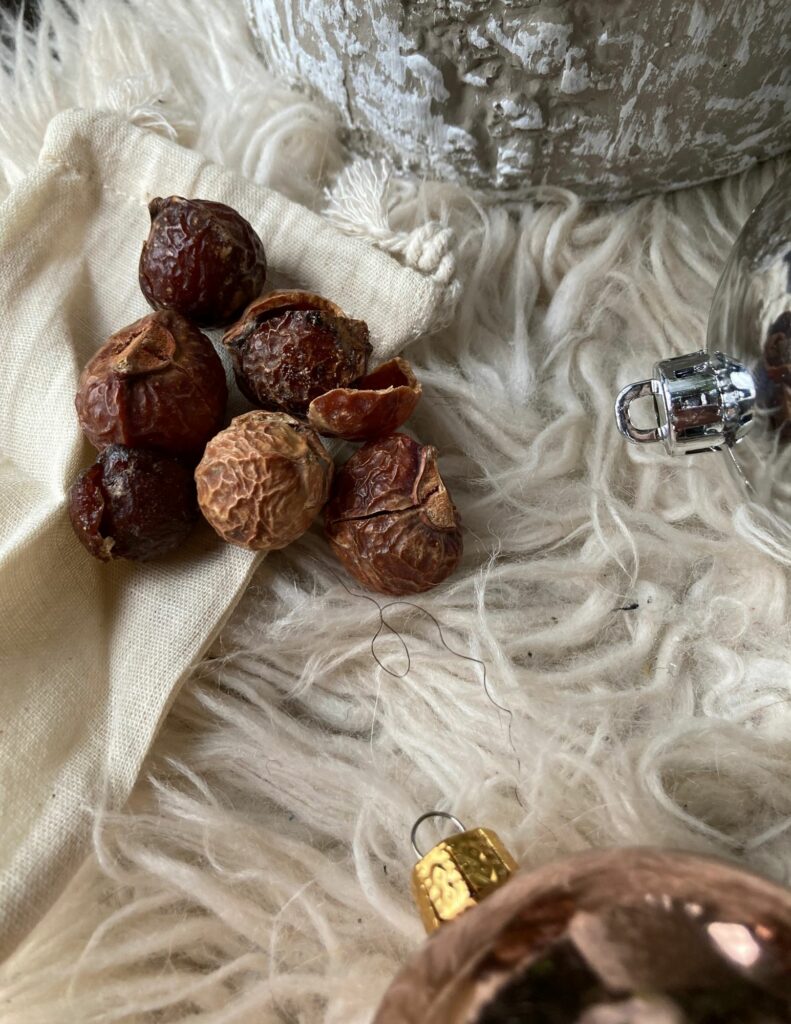 Soap nuts are a zero-waste alternative to laundry detergent. Ben and Lisa of Ever After Acres sell soap nuts on their website as well as at local retailers. Their lip balms have also been gaining popularity, and Ever After Acres generously through in a variety of lip balms for the donation basket.
Follow Ever After Acres on social media, or check out their blog – BLOG // FACEBOOK // INSTAGRAM

Juniper Curated
I met Jessi from Juniper Curated a few years ago, and she has since then become a very good friend. This was before (or maybe during?) the time when she started creating handmade polymer jewellery. When I found out that she not only made beautiful designs, but made them in CLIP ON format, I was hooked!
Jessi currently resides outside in Saint-Antoine, NB and her creative outlet has proven to be quite the success. Juniper Curated offers unique modern designs, including limited edition seasonal wear.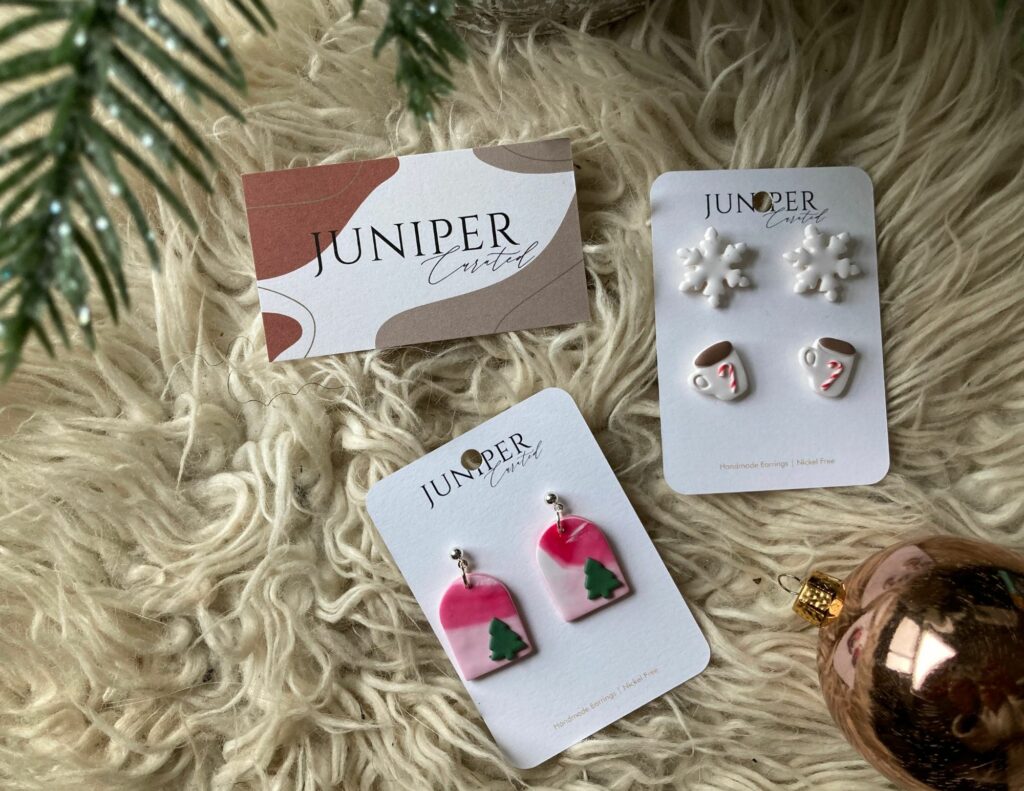 You can learn more about Juniper Curated and take a look at all their great design by following them on social media – FACEBOOK // INSTAGRAM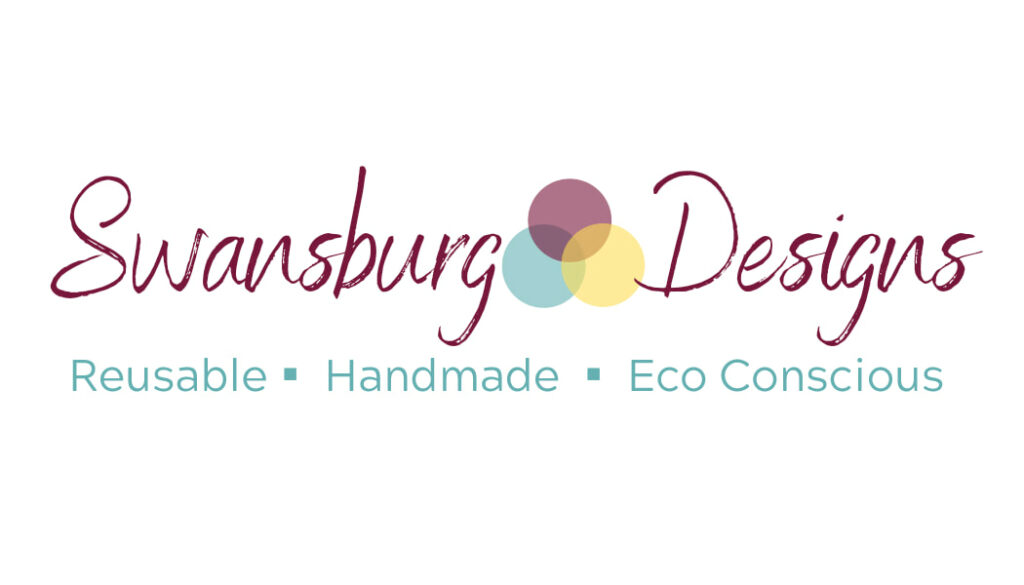 Swansburg Designs
Another female-led business is Moncton-based Swansburg Designs. Ruth Ann, who is also the owner and content creator of Everything Unscripted, has always been known for her creative endeavours. Her most recent (and in my opinion, her most impressive) projet is the products she makes for her company Swansburg Designs.
My personal favourite is her Infinity Scarves, which include a hidden lined pocket! Ruth Ann graciously donated a NB Tartan Infinity Scarf and a matching NB Tartan Scrunchie for the donation basket.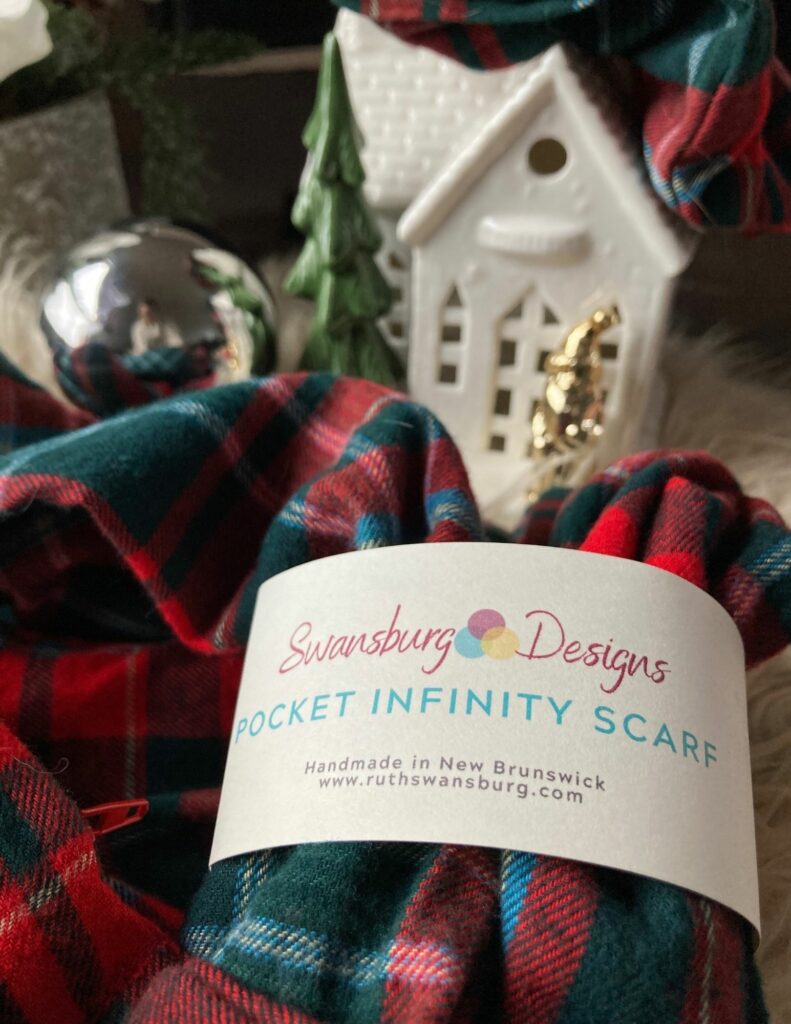 You can find Swansburg Designs online for purchase, or follow them on social media – FACEBOOK // INSTAGRAM
Local Charity Donation Basket
This year, instead of doing a giveaway on social media, I decided to donate a gift basket of locally made items to a local non-for-profit organization or charity. Make sure to visit Tiny Adventures Journey on Facebook or Instagram to suggest a local organization to win all these wonderful products!
The gift basket will includes:
Soaps from Rosemary Wellness
Soap Nuts & Lip Balms from Ever After Acres
Infinity Scarf & Scrunchie from Swansburg Designs
Holiday Earrings from Juniper Curated
Beeswax Wraps from Bees Louise
Thank you again to all these wonderful local businesses for donating their products for a good cause. I hope this post maybe have sparked interest in some of the local companies or even better, that you are discovering them for the first time. Support local this holiday season in any way you can, even if that's just following someone on social media.
Please feel free to leave some other great local businesses we can support during the holidays (and all year long) in the comments!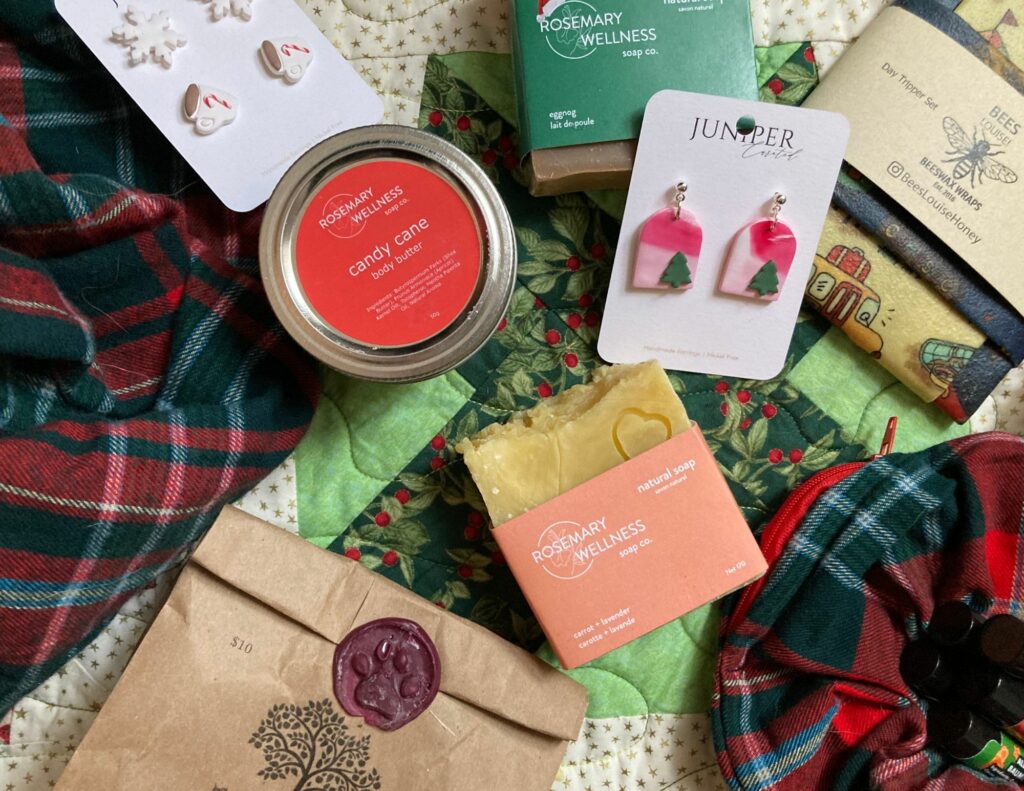 If you liked this post, you might also like: