Summer is officially over and so is my reading slump! I've got a few September reads to share with you all, all of which were honestly some of my favourite reads of the year. What I read in September consists of 3 YA novels ranging from mystery to a coming of age story.
The Box In The Woods – Maureen Johnson
4 stars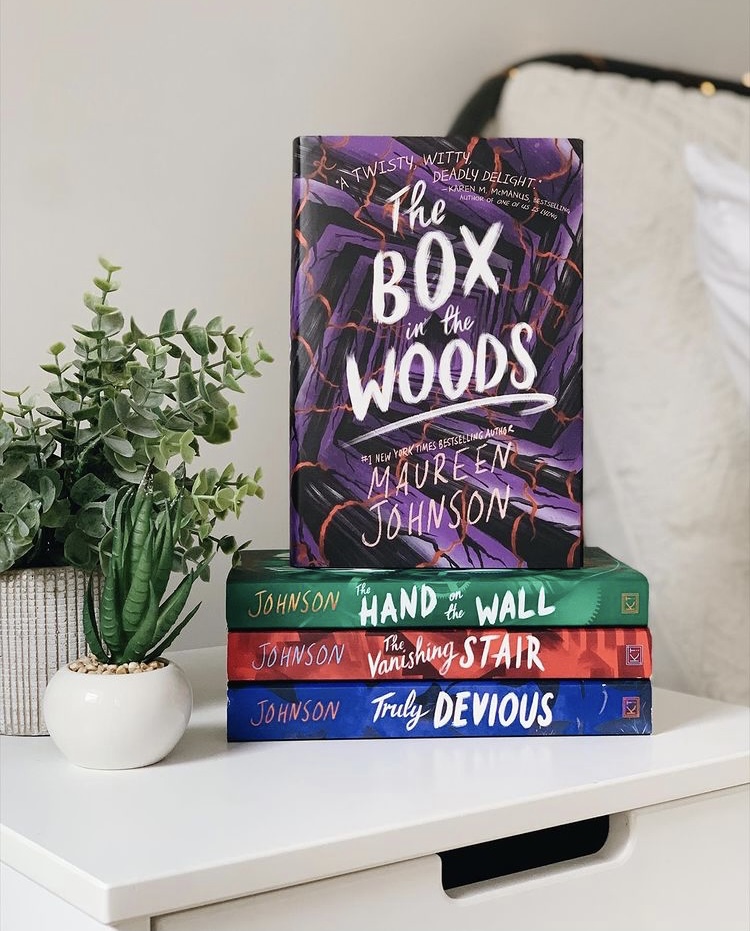 (No spoilers in this review)
The Box in The Woods by Maureen Johnson is fourth book following her Truly Devious trilogy. Our YA Book Club read Truly Devious in 2019, although I was one of the only few people who enjoyed the novel. I continued the series and followed protagonist Stevie Bell who dreamed of solving crimes.
Synopsis:
Amateur sleuth Stevie Bell is contacted to work on a notorious unsolved case, the Box in the Woods Murders. The case dates back to 1978, where four camp counsellors were killed in the woods. Their bodies were found, gruesomely displayed in an old hunting blind – the box in the woods that the case is named after.
Stevie accepts the invitation to work on the case and is accompanied by her best friends from the Truly Devious trilogy. The teens pose as camp counsellors to get to know the area and the people living there. Meanwhile, Stevie does some digging and winds up getting her own fair share of attention – and not the good kind. The Box in the Woods will make room for more victims…
In all honesty, I thought this book was so much better than the Truly Devious trilogy. Stevie seems much less juvenile and the story is more relatable than the other books. There was also a lot more information for the reader to wonder who may have committed the murders. I was highly invested and made a copious amount of notes while reading it, not to mention I tabbed out the whole book for review.
Antipodes – Michele Bacon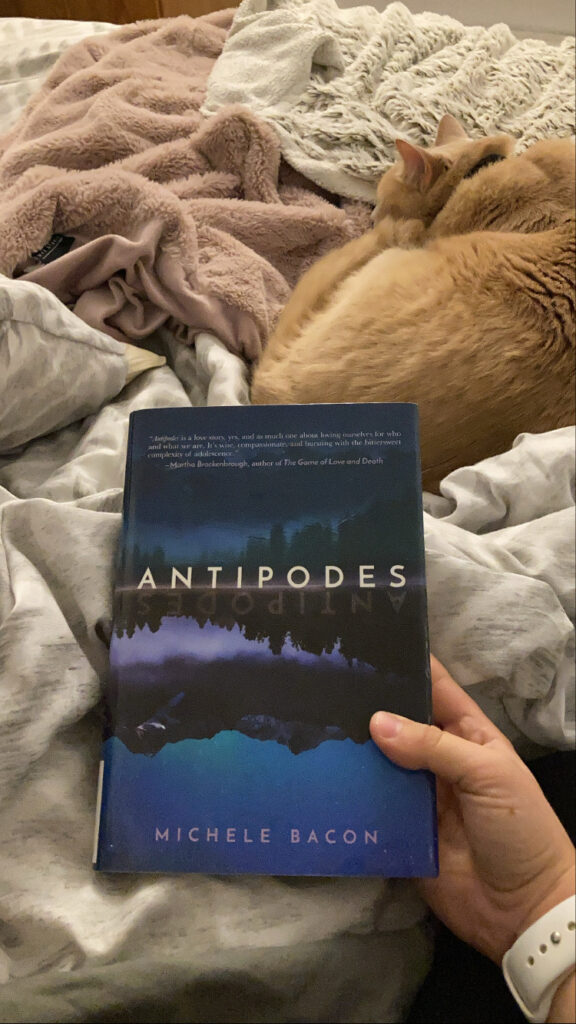 4 stars
Synopsis:
When Erin Cerise steps off her plane in Christchurch, New Zealand, she is focused intently on her mission: do something unique that will erase the mess she made of her life on her 17th birthday. She's already lost her swim team captainship, her boyfriend Ben, and her reputation. Her mother is certain studying abroad will regain Erin's chances of a good future. Once Erin sees her uninspiring host family and city, though, she's not so sure.
[…]With months ahead of her, Erin slowly begins to draw on the years behind her, one step back into her memories at a time. As she rebuilds her life from the other side of the world, she finds that when life turns your world upside down and you're far from home, every way you move takes you closer to where you came from.
I did not know what I was getting into when I picked this book up from the library. I don't even recall reading the blurb on the insider cover of the book. But I'm really glad I did borrow Antipodes because it was a great travel/coming-of-age story that I didn't know I needed.
When The Stars Lead Me To You – Ronni Davis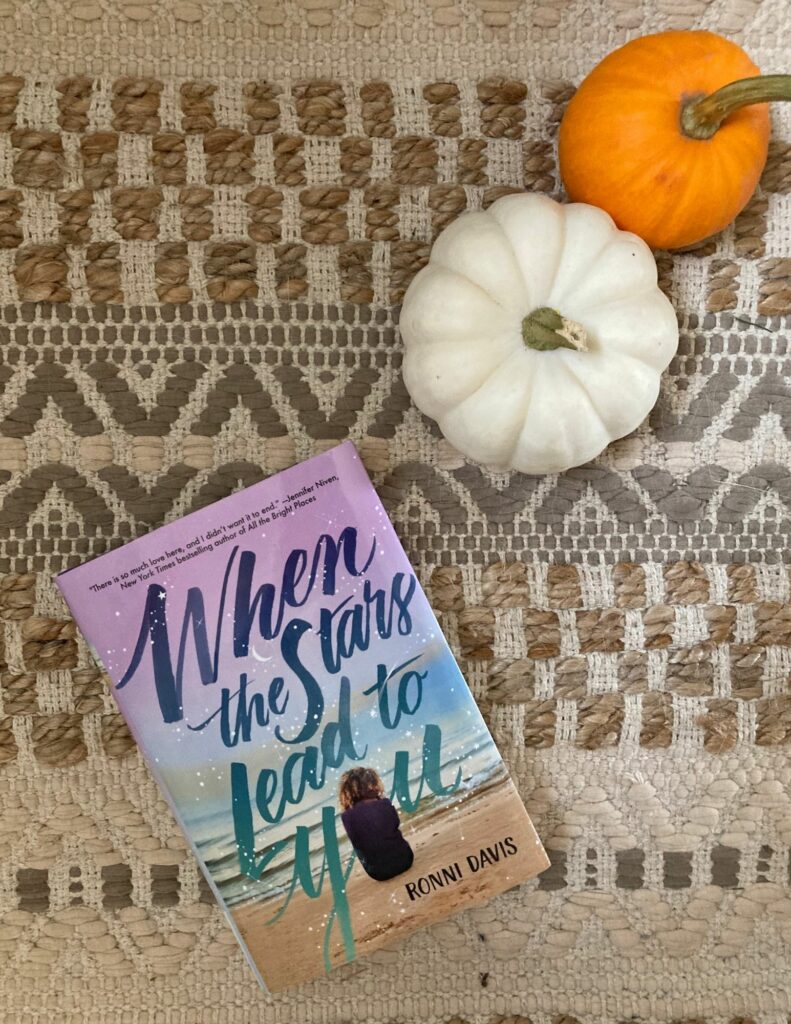 3.5 stars
Synopsis:
Eighteen-year-old Devon longs for two things: The stars. And the boy she fell in love with last summer.
When Ashton breaks Devon's heart at the end of the most romantic and magical summer ever, she thinks her heart will never heal again. But over the course of the following year, Devon finds herself slowly putting the broken pieces back together.
Now it's senior year, and she's determined to enjoy every moment of it as she prepares for a future studying the galaxies. That is, until Ashton shows up on the first day of school. Can she forgive him and open her heart again? Or are they doomed to repeat history?
TRIGGER WARNING: Depression, suicidal thoughts
As much as I love a good summer rom-com, this didn't resonate with me as much as other YA romances. I think it's because that for a large part of the book, we don't understand Ashton and what he's going through, despite knowing how it's affected Devon very negatively.
What I did love about this book was how it ended up sharing more about Ashton – the true, real version of him, including his struggles with depression.
*All outbound links lead to a local NB book store, where you can purchase the books mentioned. This post is not sponsored, but I encourage you all to support local when making purchases.
If you liked this post, you might also like similar posts, as such: