Since we began our Home Makeover for Renters series a few weeks ago, we've been focusing on doing a few small renovations in the bathroom. We talked about redoing the caulking, painting the walls, and now it's time to talk decor.
Previously, our color scheme in the bathroom was white and navy blue with a touch of grey. This was fine, because it was simply what I had on hand when I first moved here. But at this point, I've come to realize that I don't really like the color navy at all, and so it's time for a change.
We have very little decor going on the in the bathroom, and it's the way I like it. It's way too humid in there to start overdoing it with decorative items, especially some that could get damaged. (We currently don't have a fan in our bathroom, which you may have read in our previous blog post.) What we previous had was a painting by a friend, and a gifted wall hanging from another friend. They blended well enough and didn't take away from feeling nice and relaxed in the bathroom. But somehow I knew I could improve the look of this bathroom, I just didn't know how.
After much deliberation, I realized it wasn't so much about what was on the walls that mattered, but how you felt when you entered the room. I wanted to focus on feel rather than on looks. How do I want to feel when I come into the bathroom? How do I want guests to feel? Happy, relaxed, comfortable.
And then it hit me – I need to make myself a bath board!
DIY Bath Board
Given my limited expertise in DIY projects and handling tools, I decided it would be best to ask for some help. I asked both Max and a family friend (who is an interior designer) what kind of wood I should use, how I would go about staining it, how I could cut it, what tools I would need, and probably a million other questions. And fortunately, they both gave me lots of great answers that I will share with you today.
Materials Needed:
Wood
Stain & Sealer (easier to purchase these as a two-in-one product!)
Cloth
Brass Wood Screws
Measuring Tape
Tools Needed:
Table Saw
Palm Sander
Drill
Process
First things first, I told Max I wasn't touching the table saw until he showed me how to properly use it. Fortunately, it's a pretty easy and safe tool to use. Seriously, if I can do it, anyone can do it.
So after you're comfortable using all the tools, it's time to measure your bathtub to determine how wide your bath board needs to be.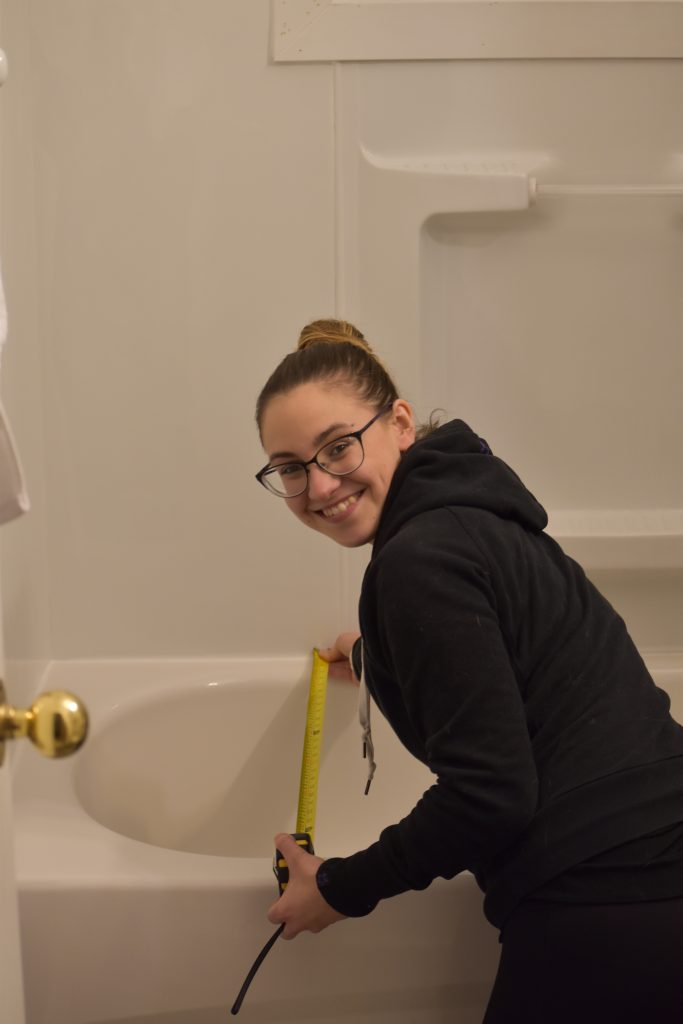 After I had the measurements written down, it was time to mark them on the piece of wood and start cutting. Don't forget that you'll need some extra pieces of wood for the bottom of your bath board so it doesn't slide off! Next, you have to make sure that all the sides of the wood and nice and smooth. We did this by using a palm sander.
Before staining the wood, Max mentioned it would be best to drill the holes in the two small pieces of wood. We grabbed our drill and compared the drill bit sizes to the 1 inch brass wood screws I bought.
Now my favourite part – staining and sealing the wood to give it the perfect look!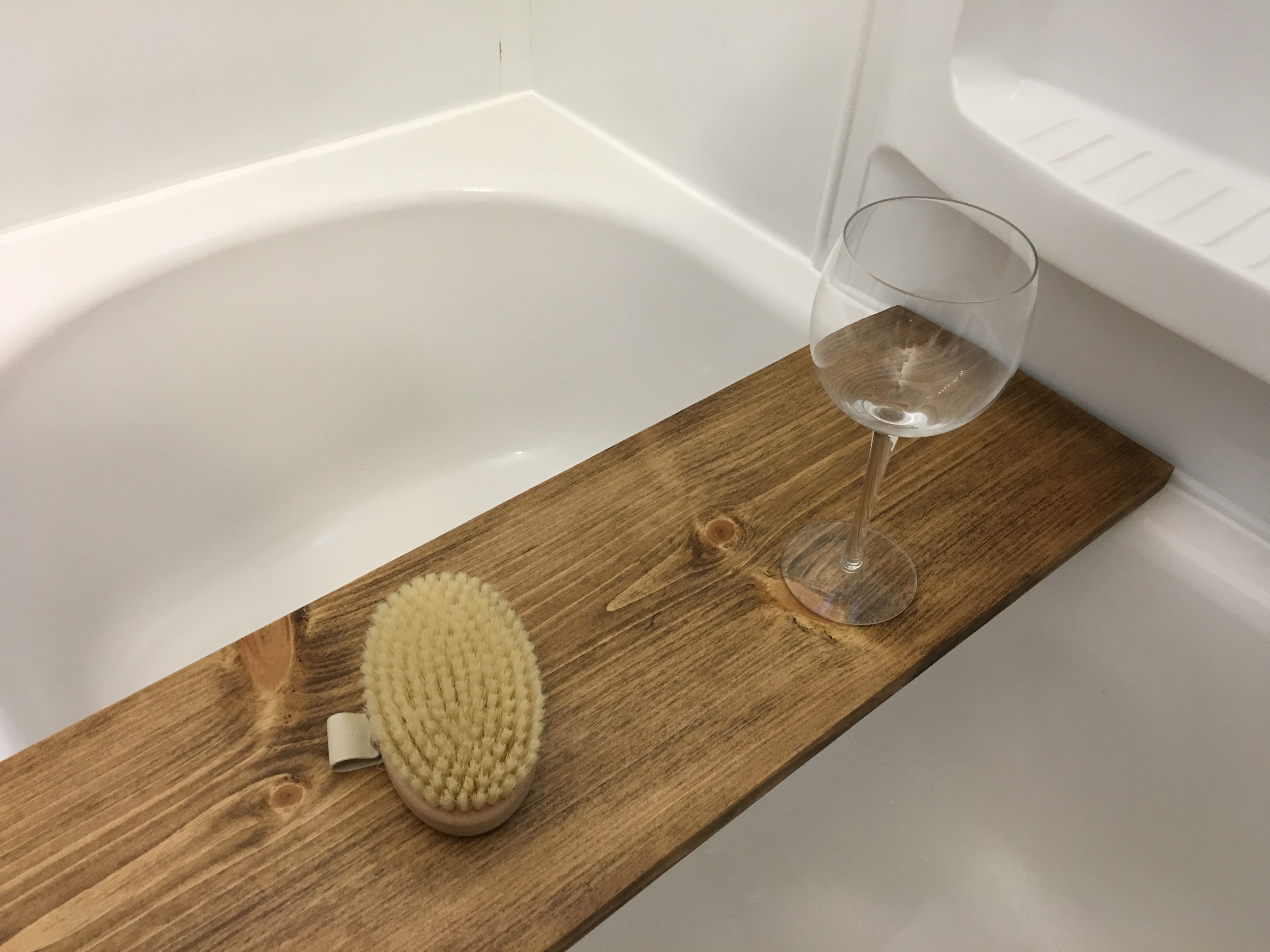 You're probably thinking the same thing I am, "But what are you going to do with a bath board once you move into your Tiny House?" Very good point… well why don't we do a Giveaway then!
Bath Board Giveaway!
Tiny Adventures is giving away one (1) handmade bath board (retail price value of $100). The contest will run from today, March 3rd 2018, until March 9th 2018 at 11:59PM. The contest is open to Canadian residents only.
To enter the contest, you simply have to scroll to the bottom of this blog post and fill out the Rafflecopter Form. The only mandatory action to enter is leaving us a comment and checking off that you've done so – and you'll have to give us a bit of your personal information so we can reach you if you win. Other options for extra entries will include Visiting our Facebook Page, Liking our Facebook Page, Following us on Instagram, Following us on Twitter, and Tweeting about the Giveaway.
The winner of this giveaway will be chosen at random on March 10th 2018 and will be contacted within the day. If the winner does not respond within 24 hours of receiving notification that he or she has won the prize, another winner will be drawn. Odds of winning will depend on the number of participants and entries in the giveaway.