I moved to Moncton, New Brunswick in the fall of 2009 when I started my bachelor's degree in music at Université de Moncton. Ever since then, I have probably only been to Fredericton a handful of times. Of all those times, I was never actually there to visit, I was there for a project or a specific event. So this time I wanted to try to do some research and find things that we could do during our time spent visiting Fredericton.
For some reason, I always thought Fredericton was bigger than Moncton. We quickly learned that it's actually smaller, and it definitely has more of a small-town vibe. Nevertheless, Max and I were excited to go experience something new in a different city. On our list of things to do were shopping, dining, and getting some great dessert.
Shopping
We aren't usually the shopping type, but the purpose of this trip was directly related to making some purchases. For Max, that meant stopping at a few places along the way to check some tools he had seen on Kijiji. As for me, that meant checking out the Costco – and pleasantly running into an old friend! We didn't have enough time to go browsing through other stores, but my top choices would have been Envy, Tilleul, Dynamic Fitness, & Owl's Nest Bookstore.
Dining
I posted online asking for suggestions on where to eat in Fredericton. Some suggestions we got were Isaac's Way & Moco, but I ran out of data on my phone and couldn't remember those suggestions, so we just looked quickly on Max's phone for restaurants in town and picked somewhere that was different from what's available in Moncton.
After much debate we ended up going to a place called Stuft Burgers & Poutinerie, which was more difficult to find that I thought it would be. I was in charge of directions and completely missed the entrance because google maps didn't recognize that it was attached to a hotel. And literally, the restaurant is like a building, hanging off of a hotel. We were sceptical as we walked in, but decided to go for it anyway.
I ordered a veggie burger (it came with guacamole on it!) and Max had a double classic. The burgers were HUGE and the homemade fries were to die for. I was surprisingly impressed with the quality of the food, despite their odd location. Bathroom situation was a bit weird, as they were located in the basement of the hotel, but our server told us that they were in the process of constructing bathrooms specifically for the restaurant. All in all, a pretty good dining experience.
Dessert
We don't go anywhere without getting dessert. A good friend of mine recommended we stop by Chess Piece Patisserie & Café, and my God, it did NOT disappoint!! We purchased a Cavalier Noir (recommended by the Barista), a chocolate eclair (my personal fave), and a London Fog Macaroon. Wow. I'm drooling over the keyboard as I type all this up…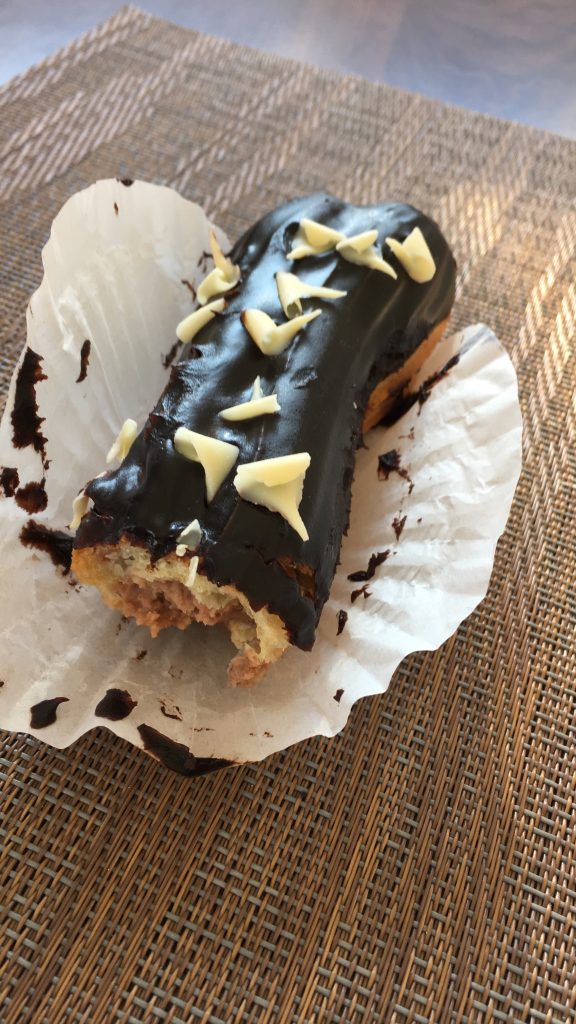 Fun Activity
It wouldn't be a great getaway without having a little bit of fun. Some suggestions that we received were to go skating at the officer's square, go skiing, and do some walking trails. What we ended up doing was totally impromptu. I texted a good friend of ours as we were about to leave town because she and her boyfriend live between Fredericton and Moncton. Good thing I texted early because she answered saying she was in Fredericton about to go to Unplugged, the board game café!
For those of you who have never been to a board game café, you should go. It's so much fun. Max and I used to go all the time when we were living out West, especially when I wasn't working because it was a cheap activity we could do with friends.
I would highly recommend going to Unplugged in Fredericton for an evening. They have a good variety of games, all organized by type of game, and great staff. They also have escape rooms now, although I'm not a huge fan of those.
If you want to get a better feel of what it was like for us to drive up to Fredericton and do some exploring, please check out our latest video on Facebook!