We're trying out meal planning on Saturday this week again instead of Sunday. We did most of our shopping yesterday (Friday) and we actually filmed all of it because yesterday we did our first vlog! We hit up Costco, Superstore, Bulk Barn and Tomavo. It was a lot of stops but it was worth it – we saved money and reduced the amount of plastic we purchased!
This week is particularly difficult, so despite our grocery list, we may be splurging a bit on extra food. The reason being that this week is the anniversary of a young family member's passing. We would love to be able to spend this time with our family in Cape Breton and Halifax, but unfortunately it's just not possible due to circumstances out of our control. We have this idea to celebrate this person's life by organizing an event in our home in Moncton next Saturday, but nothing is organized yet. Therefor, none of the food that we would be serving at this event has been put on our weekly meal plan, nor on our grocery list.
For now, this is what we have planned, just our regular 7 meals for the week. After receiving comments about our last recipe post, we're looking forward to taking some photos of another meal this week. Let us know which of these meals you'd like to make yourself!
MEALS
Stuffed Potatoes
Potacos
Macaroni Casserole
Homemade Pizza
Fish Curry
Miso Soup
INGRDIENTS
Potatoes
Broccoli
Cheese
Onion
Garlic
Sweet Potato
Bell Pepper (we still have some leftover, but I might buy an extra one)
Spinach (still lots left!)
Black beans
Nutritional Yeast (optional)
Cumin
Lemon Juice
Garlic Powder
Chili Powder
Tortillas
Olive Oil
Salsa
Veggie Ground Beef
Green Onions (we regrew some but now it's all gone)
Macaroni
Diced Tomatoes
Tomato Soup
Homemade Pizza Dough recipe* (this might be our next recipe on the blog, stay tuned!)
Pizza sauce
Tomatoes
Mushrooms
Tilapia
Fish Curry Powder
Basmati Rice
Naan
Ginger
Carrot
Vegetable Broth
Noodles
Soya Sauce
Red Miso Paste
Snow Peas
GROCERY
Potatoes – $4.99 at Costco
Sweet Potato – $0.85 at Tomavo
Veggie Ground Beef – $14.99 for 4 packs at Superstore
Green Onions – $1.29 at Superstore
Tomatoes – $1.67 for 5 vine tomatoes at Tomavo
Mushrooms – $1.70 at Superstore
Ginger – $0.28 at Tomavo
Snow Peas – $1.11 at Tomavo
Hamburgers for Max*
Sausages for Max*
Molasses – $8.99 at Costco
Eggs – $3.99 at Costco
Cheese & Crackers – $7.99 at Costco
Strawberries – $5.99 at Costco
Milk – $6.53 at Superstore
Simulated Bacon Bits – $2.76 at Bulk Barn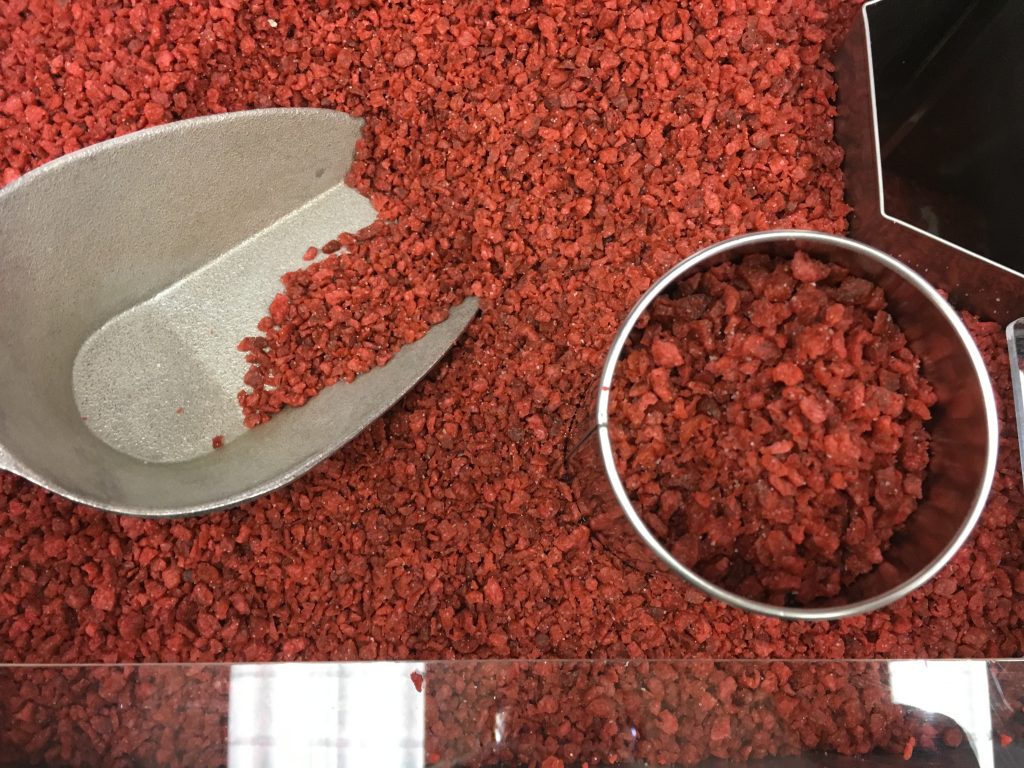 This week's total: $63.13! That's pretty good actually. We also spent a little for $9 on treats from Bulk Barn, which I don't usually include in our grocery budget. It's good to know we still have a good $30 left in our budget if we do need to buy some extra stuff.
How did you do with you budgeting this week?