Weekly meal plans might not be as exciting for some people as for others, so I decided to make themed meal plans. Featured in this blog post is my Taste of Asia Meal Plan.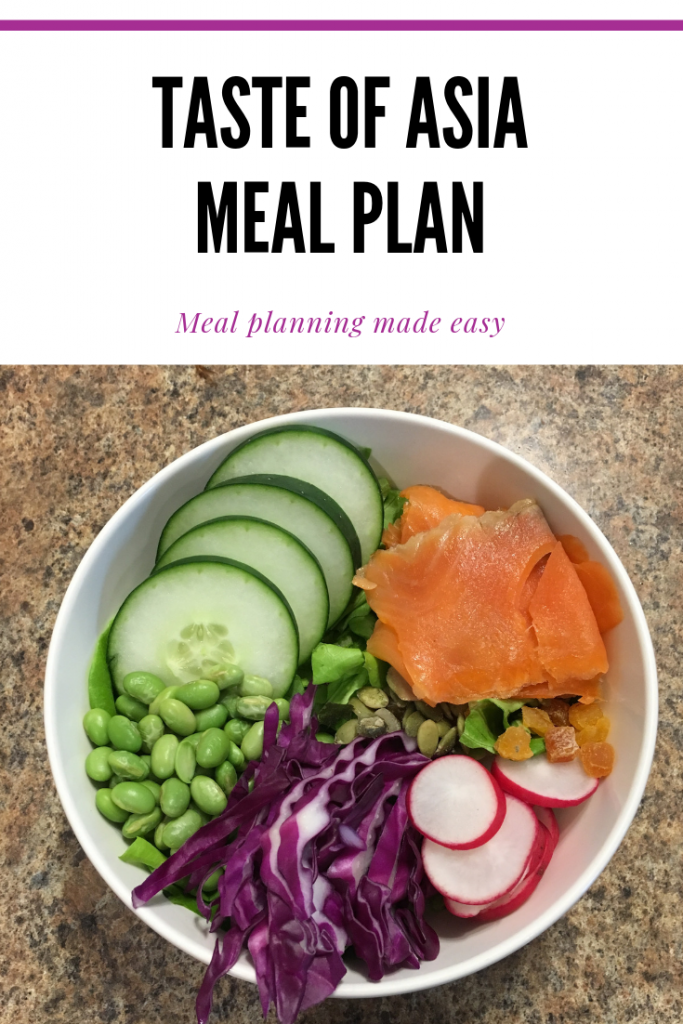 The recipes featured are inspired by asian meals, but aren't necessarily true asian cuisine. If you have suggestions of others meals we should try, please let us know in the comments!
Taste of Asia Meal Plan
Tofu Black Bean Avocado on Rice
Smoked Salmon Poke Bowl
Vegetarian Butter Chicken
Oven Rice & Stir Fry
Homemade Sushi
Ingredients
This is a list of all the ingredients that appear in each meal. No ingredients are repeated, therefor even if they appear in multiple meals, they will only be listed once.
Note: All the items listed in bold will appear in the grocery list below.
Tofu
Black Beans
Avocado
Basmati Rice
Soya Sauce
Garlic
Brown Sugar
Shrimp
Olive Oil
Onion
Bell Peppers
Eggs
Instant Noodles
Sriracha
Fish Sauce
Peanut Butter
Rice Vinegar
Catalina Dressing
Chopped Peanuts
Green Onions
Udon Noodles
Cremini Mushrooms
Carrots
Snow Peas or Snap Peas
Baby Spinach
Sugar
Sesame Oil
Ground Ginger
Smoked Salmon
Radish
Edamame
Cucumber
Dried mango
Pumpkin Seeds
Red Cabbage
Spicy Mayo
Broccoli
Sweet Potato
Chickpeas
Butter Chicken Sauce
Uncle Ben's Long Grain Brown Rice
Onion Soup Mix
Vegetable Oil
Canned mushrooms
Leftover vegetables
Cherry Sauce
Sushi Rice
Imitation Crab Meat
Cream Cheese
Nori
Grocery List
This is a compiled list of all the ingredients we don't have in the house. You can see which items those are in the list above marked in bold font.
Tofu
Black Beans
Avocado
Bell Peppers
Chopped Peanuts
Cremini Mushrooms
Snow Peas or Snap Peas
Baby Spinach
Radish
Cucumber
Dried Mango
Pumpkin Seeds
Sweet Potato
Imitation Crab Meat
Nori

Shopping Local
After we've finished our grocery list, we like to try to shop local. We typically get our produce from Tomato Fruits and our bulk items from Bulk Barn. The specialty items on this list, such as Nori, are purchased from the Oriental Market on Main Street. There are numerous other great local stores to buy your groceries, such as Rinzler's Market, the Moncton Farmer's Market, Corn Crib Natural Foods, Sequoia Downtown, Co Pain Bakery, Nanna's Bakery, and many more.