Time is flying by and we are not doing so good on the meal planning front. We ended up going to the restaurant 4 times last week. Well, one evening was take out, but it comes to the same thing. All of that to say that we are pushing even more recipe onto next week's meal plan.
Meal Plan
Slowcooker Curry
Shepherd's Pie
Rice & Stir Fry
Miso Soup
Fettuccine Alfredo
Sloppy Janes
Highland Games*
Ingredients
Quinoa
Sweet Potato
Broccoli
Chickpeas
Onion
Diced Tomatoes
Coconut Milk
Garlic
Ginger
Tumeric
Tamari or Soya Sauce
Red Pepper Flakes
Potatoes
Cream Corn
Yves Veggie Ground Beef
Uncle Ben's Rice
Red Pepper
Carrots
Mushrooms
Snow Peas
Stir Fry Sauce
Vegetable Broth
Instant Noodles
Soya Sauce
Red Miso Paste
Green Onions
Fettuccine Pasta (or Spaghetti)
Butter
Cream Cheese
Milk
Maple Syrup
Parmesan
Hamburger Buns
Homemade Sloppy Joe Mix
Grocery
Diced Tomatoes – $1.00 each @ Superstore (bought 4 cans)
Mushrooms – on sale for $2.89 at Superstore
Snow Peas – haven't purchased yet
Hamburger Buns – $1.25 (50% off) @ Superstore
English Muffins – $1.24 (50% off) @ Superstore
Instant Noodles – on sale for $0.99 each @ Superstore (bought 2)
Tomato Sauce – on sale for $1.00 each @ Superstore (bought 6)
Bits & Bites – on sale for $2.29 @ Superstore
Chocolate Milk – 2L on sale for $4.41 @ Superstore
Breyers Ice Cream – on sale for $4.99 @ Superstore (had a $1 off coupon, paid $3.99)
Farmer's Ice Cream – on sale 2 for $5.00 @ Superstore
Lime – $0.79 @ Superstore
Green Beans – $0.97 @ Superstore
Bananas – $0.45 @ Tomavo
Grapes – $1.64 @ Tomavo (SO CHEAP!!)
Apple – $0.42 @ Tomavo (also cheap!!)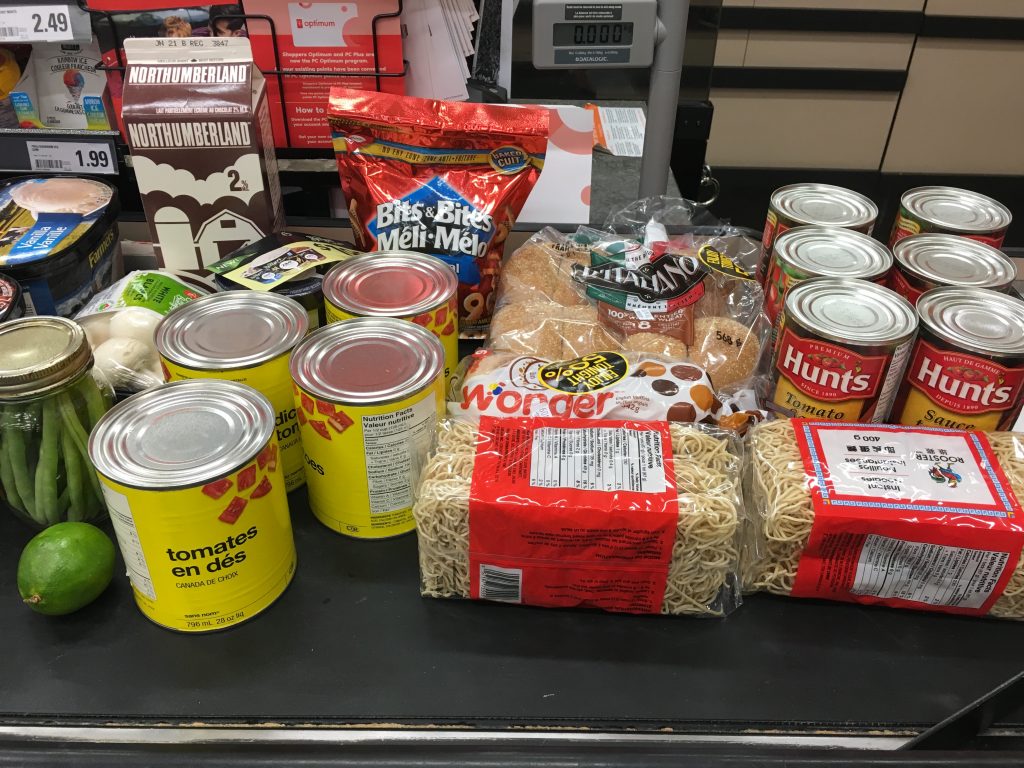 Total amount spent on groceries this week (including treats) is $37.65. All that we still need to buy are snow peas from Tomavo. I didn't have any glass jars with me when I went this morning, and I was in quite a rush so I didn't grab any. We'll surely purchase these tomorrow and they usually cost less than $1.00. All in all, I'm very pleased with our budget for this week's grocery. Hopefully we can keep a low budget for the following week as well to make up for going to the restaurant a couple of times this week.
Which of these meals would you to be posted as a recipe on the blog? Let us know in the comments! We're hoping to start posting more recipes as time goes on and we'd love to get your input.