It's official – we love Tiny House Living! We had the pleasure of renting a Tiny House in Cape Breton this week thanks to Judy Pratt and Nicky Duenkel. They have a beautiful tiny home with a gorgeous view. It felt like a dream come true to have spent the night in their humble abode.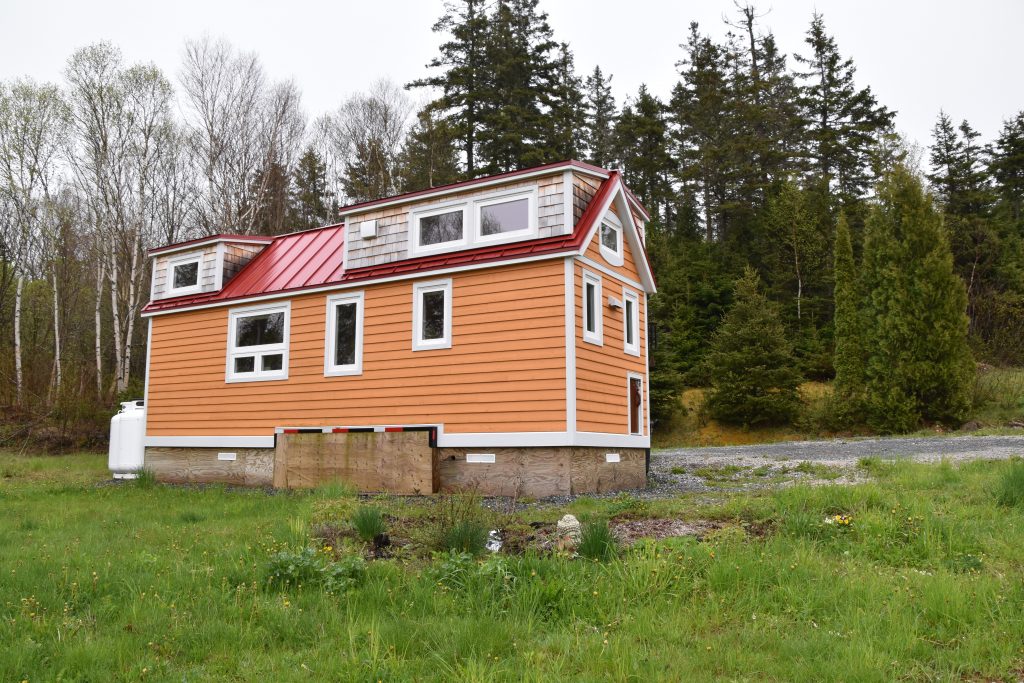 We had met Judy & Nicky about a year ago at the first Tiny House Meet Up in Cape Breton. There, they spoke about their experience planning and hiring someone to build their home on wheels. They had many hiccups along the way but they took their time to make sure everything was perfect when it was finished.
Tiny
They named their home "Tiny." Of course! Tiny is 25 feet long and 8.5 feet wide. It contains all of their belongings and still, there is room to spare. Tiny was built to meet all of its owners needs – which includes a special feature we will save a surprise until you watch our video!
The construction of this Tiny House took about a year to build, on and off. It was all done by an incredible contractor named Matthew Willox of Howling Dog Construction. He took into account every little detail that the home owners had their hearts set on. He made their dreams a reality. And he built them the perfect home.
The Entrance
When you first enter Tiny, you are in the entryway and living room. To your right, a propane stove atop a storage box for boots and such. To your left, a cute little cubby for coats and accessories. In front of you is the couch, covered in very comfy looking pillows – and of course it has storage underneath. At the end of the couch is a bookcase filled from top to bottom.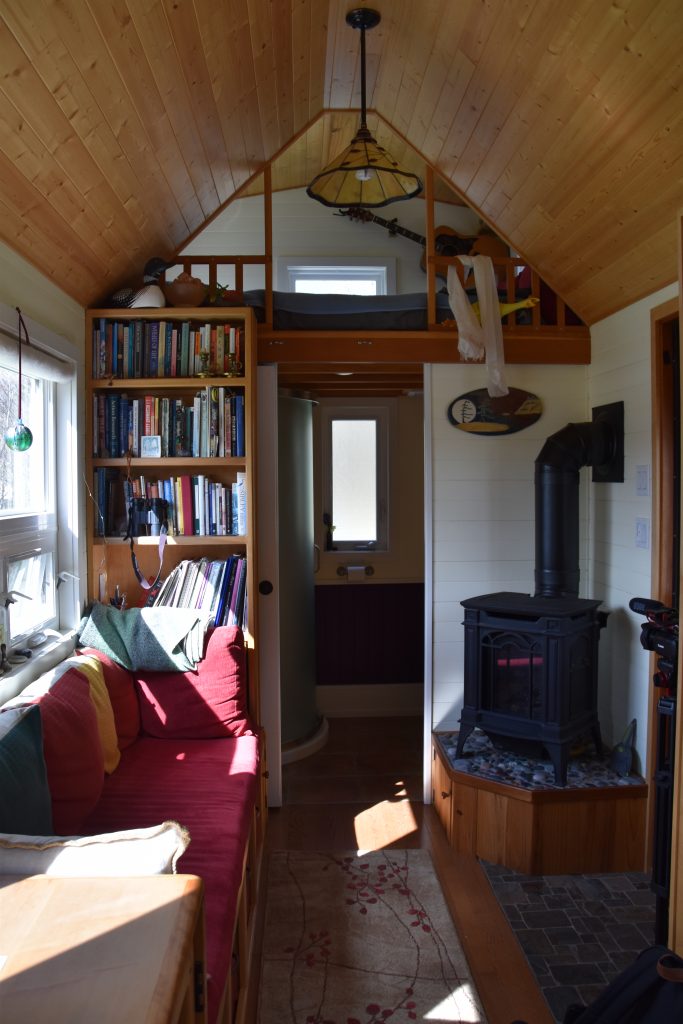 The Bathroom
If we move further down to the right side of the Tiny House, we will find a bathroom on the main floor and a guest bed in the loft. The bathroom is actually quite spacious – it's bigger than the one in our current home! It has a sink and vanity with storage, a camper-style toilet (flush by foot), a full size shower, and a floor-to-ceiling bookcase for towels, toiletries, and anything else that needs to be stored in the washroom.
The Office & kitchen
Opposite to the bathroom is the office and the kitchen on the main floor. The office consists of a (very) small desk that has two extendable pieces. It is used as a desk and a table. All office supplies are kept in the kitchen drawers that are closest to the desk. And another special feature pertaining to this will also be in the video! (Hint – it's a special made piece of furniture perfect for anyone who works from home!)
The kitchen really impressed me. It has a full sized fridge, a double sink, and lots of counter space. You can take a look for yourself!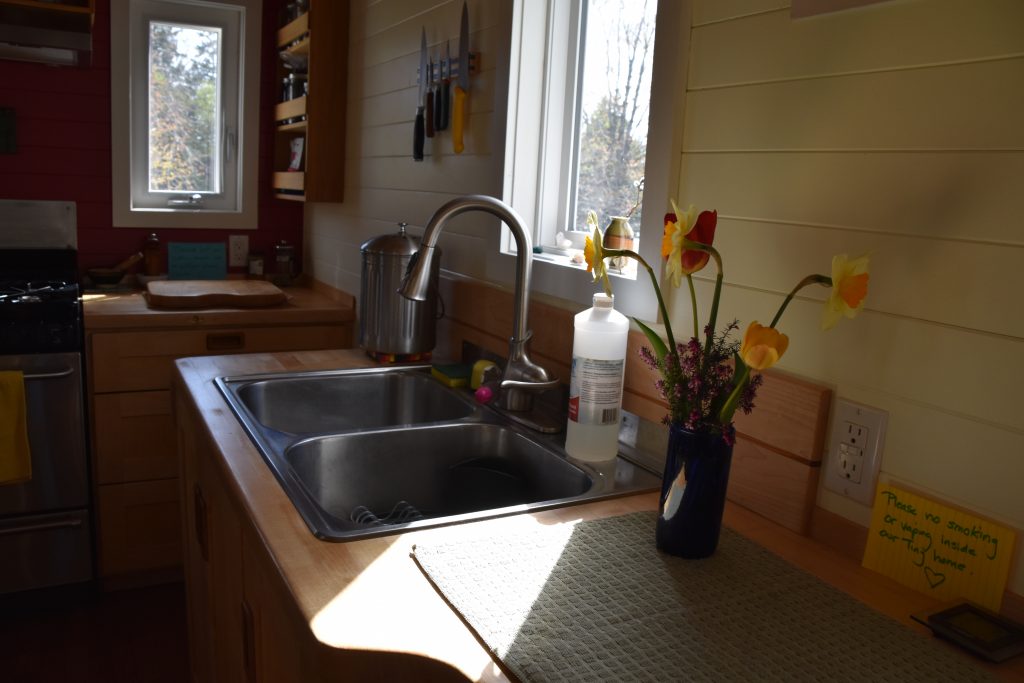 Loft Bed
The main loft bed in this Tiny House was very spacious. We were a bit surprised because we expected it to feel more cramped. Up there we slept on a queen sized bed with space on both sides of the bed to place books, glasses, or a drink of water.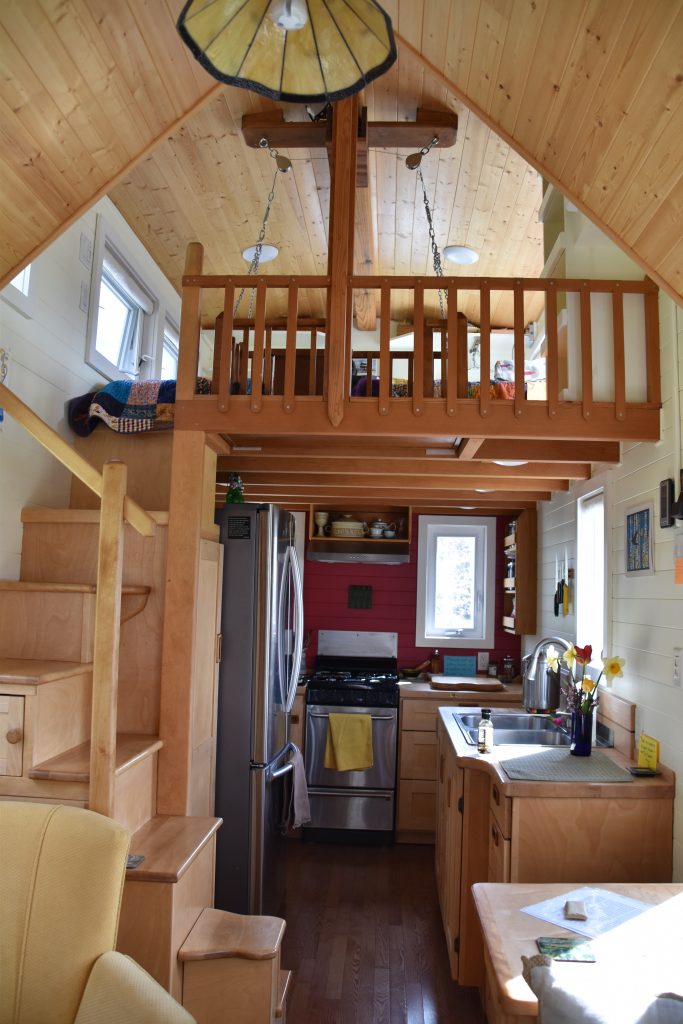 And in the image above you can see the special feature of the house. I won't ruin the surprise by telling you what it is – you'll have to watch our first YouTube video to see for yourself!

We had such a wonderful visit in Cape Breton and feel so blessed to have been able to experience staying in a Tiny House overnight. We are looking forward to finalizing our Tiny House plans and start our build in the near future. If you'd like to stay up to date with our Tiny House adventure, please subscribe to our blog!
And of course we'd love it if you also subscribed to our Youtube Channel – it's just the beginning so stay tuned!