During our No Spending Month, our goal was to purchase groceries and gas only. We gave ourselves a budget for groceries, but not for gas because we knew we might be travelling out of province this month. We hoped we could stick to our plan to not make any personal purchases for a full month.
All in all, I am incredibly proud of how well we did during this No Spending Month challenge. Other than gas and groceries, the only money that we spent was all for the blog. We purchased our very own domain name – the .com and the .ca! We also purchased a few things to work on our newest DIY project, Home Makeover For Renters. And still, with all these items added on, our total of money spent was $389.66. That's crazy!!
We were very fortunate to be able to spend so little this month, and a lot of that is due to the fact that we had two grocery gift cards, PC points worth $60 of groceries, and a Costco Voucher valued at $90. But in hindsight, that just means that we picked the best possible month to do a No Spending challenge.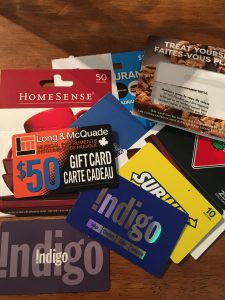 With our stockpile in the basement, and lots of frozen meals in the spare freezer, it's a lot easier to save the maximum amount of money. The surprising thing is that we actually still have a lot left, both in the pantry and in the freezer, so I'm thinking of suggesting another spending freeze to Max. What do you guys think his reaction will be?
Speaking of Max, he did really well this month too. Now I can't say for sure how much he spent, but I know that for the most part, he was unable to spend anything – both his debit and his credit card weren't working and he only got a debit replacement three days ago! Given that Max doesn't typically carry any cash on him, I think it's safe to say he only broke the No Spending Month once, when he had no breakfast prepared one morning before work and was running late.
To sum, I think this No Spending Month was a huge success. We had very little income tricking in for most of this month, so we are very happy with how much we were able to reduce our spending.
Learn more about the challenges we had during our No Spending Month and some fun free activities by checking out our Facebook Live video!
Have you ever done a No Spending Month? If so, what did you find most challenging? Let us know in the comments below!