Summer time is always the most challenging when it comes to sticking to our weekly meal plan. Family visits, friends gather, and the beautiful weather makes us want to stay out of the house as much as possible. But even so we make our plan anyway and hope to stick to it at least somewhat so that we can keep saving money and eat good healthy meals.
Our meals for this week are a combination of last week's meals and some other recipes we haven't had the chance to try this month yet. If you have any suggestions on meals we should try to make, please let us know in the comments!
Meals
Tex Mex Casserole
Pizza
Buddha Bowl
Oven Rice & Stir Fry
Pasta Shells
Ingredients
Chili Powder
Cumin
Paprika
Cayenne
Coriander
Olive Oil
Red Onion
Garlic
Orange Pepper
Red Pepper
Corn
Diced Tomatoes
Tomato Sauce or Tomato Soup
Black Beans
Rice
Cheese
Tortilla Chips
Homemade Pizza Dough
Tomato sauce
Oregano
Mushrooms
Green Pepper
Onions
Shrimp
Yellow Pepper
Eggs
Instant Noodles
Sriracha
Fish Sauce
Soya Sauce
Peanut Butter
Rice Vinegar
Catalina
Chopped Peanuts
Green Onions
Butternut Squash
French Dressing
Uncle Ben's Long Grain Brown Rice
Onion Soup Mix
Oil
Water
Stir Fry Sauce
Tilapia
Tortillas
Miracle Whip
Cabbage
Homemade Baja Taco Seasoning
Pasta Shells
Cottage Cheese
Broccoli
Grocery
Red Pepper – $2.75 @ Superstore
Mushrooms – $1.37 in bulk @ Superstore
Yellow Pepper – $2.75 @ Superstore
Eggs – $3.99 @ Costco
Butternut Squash – $0.00? Got this from Superstore but it doesn't seem to be on my receipt!
Milk – $6.53 @ Superstore
Chocolate Milk – on sale for $2.19 @ Superstore!
Fries – $6.89 @ Costco (so worth it, I never have any energy to cut up potatoes and make homemade fries during the summer)
Frozen Pizza – $11.99 for 4 at Costco (we are so busy, I would much rather cook a frozen pizza than go out and get fast food!)
Cheese & Crackers – on sale for $7.99 @ Costco
Clementines – $7.99 @ Costco
Raspberries – $5.49 @ Costco
Coconut Clusters – $10.99 @ Costco
Bagels – 2 bags for $5.00 @ Superstore
Bread – $3.75 @ Nana's Bakery
We only bought mushrooms in bulk, but I was so happy to see all of these products also available in bulk at the Trinity Superstore!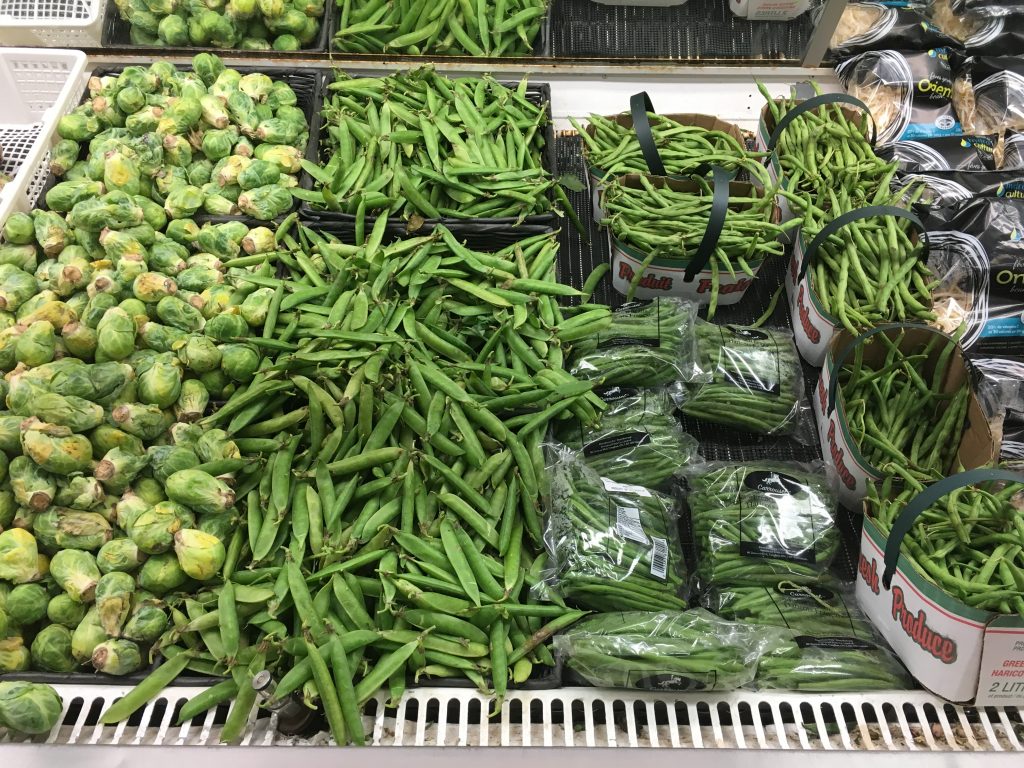 Total Spending
We spent a total of $78.37 this week! Max did buy some extra meat at Costco, although it's not for this week's meal plan. Regardless, we were still under budget and hope to be able to stick to these recipes for this week.
What kind of meals are you making this week? Let us know in the comments, we'd love some new ideas!