It's going to be a hectic week, what with family visiting, celebrating two birthdays, not to mention an early Easter dinner, so it's going to be a flexible week in terms of our weekly meal plan. It's totally normal for this to happen every once in a while, and that's why it's important to roll with the punches if things don't go exactly according to plan.
This week's grocery list includes lots of products that we didn't necessarily need this week but that were on sale ,so we added them to our list and purchased them in bulk to get the best price available.
Meals:
Family Dinner with the Bernards
Brunch with Bernards & Mills**
Casino Buffet with Mom & Steve
Stuffed Potatoes & Grilled Tilapia
Macaroni Casserole
Cauliflower Wings & Homemade Fries
Easter Dinner: Chicken, Potatoes, Carrots & Salad
Fish Tacos
Ingredients:
Fruit
Eggs
Bread
Breakfast Meat
Juice
Sparkling Water
Potatoes
Broccoli
Cheese
Tilapia
Macaroni
Diced Tomatoes
Tomato Soup
Onion
Cauliflower
Milk
Flour
Garlic Powder
Onion Powder
Cumin
Paprika
Hot Sauce
Ham
Salad (either pre-made or ingredients to make one)
Tortillas
Miracle Whip
Taco Spice Mix (Homemade)
Grocery:
Strawberries – on sale for $5.99 @ Superstore
Bananas – $1.97 @ Superstore
Cranberry Juice – $2.09 @ Superstore
Apple Juice x2 – on sale for $2.39 each @ Superstore
Orange Juice – on sale for $1.43 @ Superstore
Perrier – $2.09 @ Superstore
Onions – on sale for $1.49 at Superstore
Raspberries – $6.49 @ Costco
Apples – $5.49 @ Costco
Eggs – $3.99 @ Costco
Bacon – $18.99 @ Costco (Max is paying for most of it because he'll keep it for himself after the brunch)
Breakfast Sausages – $13.99 @ Costco (Max is paying for most of it because he'll keep it for himself after the brunch)
Bread – $3.75 @ Nana's Bakery
Ham – $13.86 @ Costco
Lettuce – $2.99 @ Costco
Croutons x2 – on sale for $3.99 at Costco!!
Vanilla Yogurt x2 – on sale for $5.49 @ Costco
Shrimp – $19.99 @ Costco (we ran out last week and I never noticed we had none left)
Cream Cheese x2 – on sale for $5.99 @ Costco!!
Naan – $2.99 @ Costco (we also ran out of these and we still have leftover curry)
Lemon Juice – $4.49 @ Costco (we just ran out of lemon juice)
Cheese & Crackers – $9.99 @ Costco
Butter – $3.89 @ Costco (I wanted to make sure we didn't run out before the end of the week)
Kettle Chips – on sale for $2.49 @ Superstore
Mini Eggs – on sale for $13.99 @ Superstore (for Easter recipes and a surprise Easter basket for Max!)
Cold Smoked Salmon – $8.99 at Superstore
I also bought other things, such as flowers, but I won't include that in our grocery budget since it was more a treat for myself and for our guests who will be coming over for brunch today.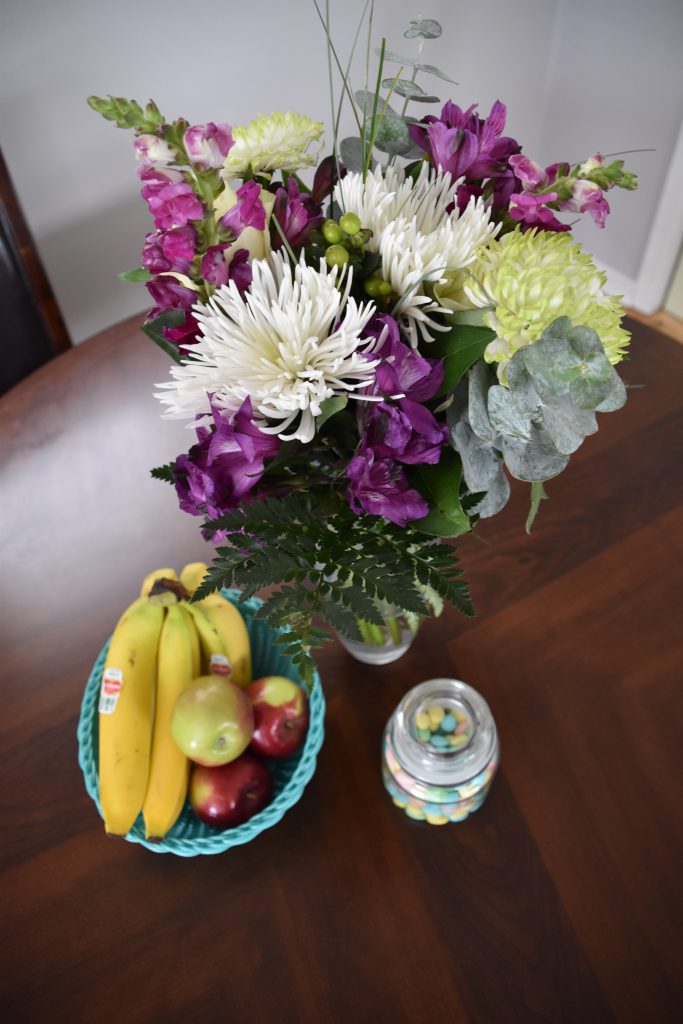 Our total for this week's grocery is quite higher than usual, but it was good to stock up on some sale items, plus Max will be paying me back for a good portion of the meat since I don't eat any.
Total spent on groceries this week: $185.14
To compare, our usual weekly budget is $100. This week, we did go over our regular allotted budget, but for good reasons: stockpiling, and family!
Did you make a meal plan for this week? If so, did you find there was an increase in your spending due to Easter coming up? We'd love to hear from you, let us know in the comments!