The month of February has been a bit more hectic since we finished our No Spending Month, so our meal plans don't always go quite as planned. With family visiting this weekend, and Valentine's Day that just passed, we've been going to restaurants more often than normal – it's usually never. And I feel bad because that's probably all because of me not wanting to spend money. So this week, I'm planning a surprise for Max and I'm going to take him out for Wings at Montana's tomorrow night!
I think that most people find it important to balance going out for food VS making home cooked meals, and you can definitely adjust your budget to make that happen if you're like Max and you like going out once in a while. I'm trying to find that balance because I'm a home-body and I would stay home over going out any day! I've found that the key to balancing it out is planning! So because I know in advance that we're going to go to the restaurant once this week, I won't buy any groceries to make a meal that day, but I will have to take into account that we might not have leftovers for lunch on Tuesday so I'll make sure we have enough food to make a salad, a sandwich or leftovers in the freezer.
Enough chit-chat, let's get down to our meal planning!
Meals:
Risotto with Shrimp + Broccoli Salad (YUM)
Wings at Montana's
Shepherd's Pie with Yves veggie ground "beef"
Tofu Black Bean Avocado (Personal favourite!)
Tuna Casserole & Spinach Dip
Fishcakes with peas and buns
Ingredients:
Arborio Rice
Onion
Garlic x4
Mushrooms
Peas x3
Vegetable Stock
Dry White Wine – an excuse to buy more wine? Yes, please!
Nutritional Yeast
Lemon Juice
Cream* – we're going to use regular cream instead of cashew cream
Shrimp
Broccoli – we have frozen broccoli but salad is better with fresh broccoli
Red Onion
Simulated Bacon Bits
Dried Cranberries
Mayonnaise or Miracle Whip
Sugar
Vinegar
Potatoes
Yves Veggie Ground "Beef"
Cream Corn
Instant Noodles
Carrot
Red Pepper
Snow Peas
Spinach
Soya Sauce
Sesame Oil
Ground Ginger
Sriracha
Tofu
Black Beans
Avocado x3 – we'll use the extras to make guacamole! 
Basmati Rice
Tuna
Macaroni
Cream of Mushroom Soup
Cheese
Spinach
Plain Greek Yogurt
Water Chestnuts
Sourdough Bread
Fish – this will be our last portion in the freezer
Buns
Grocery list:
Mushrooms – $0.99 50% off at Tomavo
Dry White Wine – $11.19 at Superstore
Cream – $3.80 @ Rinsers Meat Market
Broccoli – $2.59 @ Tomavo
Red Pepper – $1.61 @ Tomavo
Snow Peas – $0.77 @ Tomavo
Spinach – $2.99 @ Tomavo
Tofu – $1.99 @ Superstore
Avocado – $3.87 @ Tomavo
Macaroni – $1.69 on sale @ Superstore (we bought 3 bags)
Sourdough Bread – $1.49 @ Superstore
Water Chestnuts – $1.99 @ Superstore
Hunts Tomato Sauce – $0.88 on sale @ Superstore!! (we bought 8 of these)
Knorr Pasta – $0.88 on sale @ Superstore (Max's weakness; he bought 7)
This week, we purchased a few items for our stockpile: macaroni, tomato sauce and Knorr Pasta packets. Macaroni is something we use quite often, and so it's really unfortunate that these come in plastic packaging. We are however on the lookout for a place to buy bulk pasta so we can eliminate the plastic waste. Let us know in the comments if you know of a place!
As for the tomato sauce, the ones we purchased come in Aluminium cans so we can recycle those, although the Knorr Pasta packets will have to be thrown out after we use them.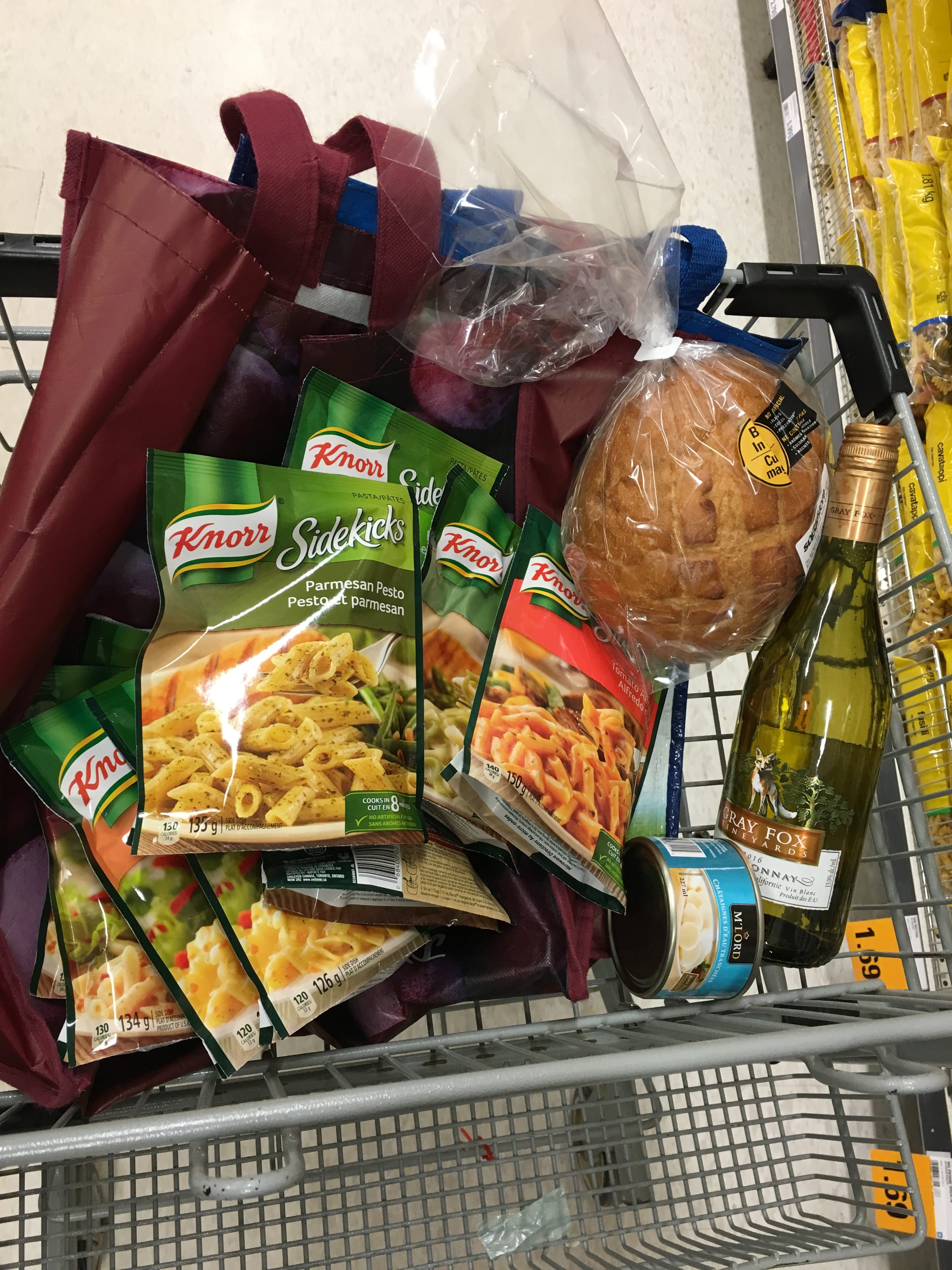 Despite having bought a few wasteful items, I do feel that we're improving in our effort to purchase less packaged items. I think that being conscious of what products we buy and how they're packaged is the first step in the right direction.
It seems that I didn't take a very good look at my list before we went shopping that first time, because I forgot quite a few items. One of those I actually needed last week because I made the mistake of not writing our Menu on the fridge and had properly prepared for making fettuccine alfredo. And the worst part of it was that I only realized this the day I was supposed to be making that meal, and I had no car.
I decided to go on an adventure – luckily it was a beautiful day outside and I was able to walk to Rinzler's Meat Market where I bought some cream! This store is very close to where we live – even closer than I thought – and has a wide variety of grocery items. Their main focus is meat, of course, so Max had always been the one to shop there. I was surprised to walk in for the first time and find lots of dairy products as well as vegetables and bakery products.
Despite the fact that they do stock vegetables, I've been getting into the habit of buying all our vegetables at Tomavo, a new fruit and vegetable market that just opened last year – also within walking distance of our house. So I walked from Rinzler's to Tomavo that same day and was so happy to find that none of the items I bought had any plastic! I actually saved myself from having to use a plastic bag by bringing in my own mason jar, which I happily filled with Snow Peas!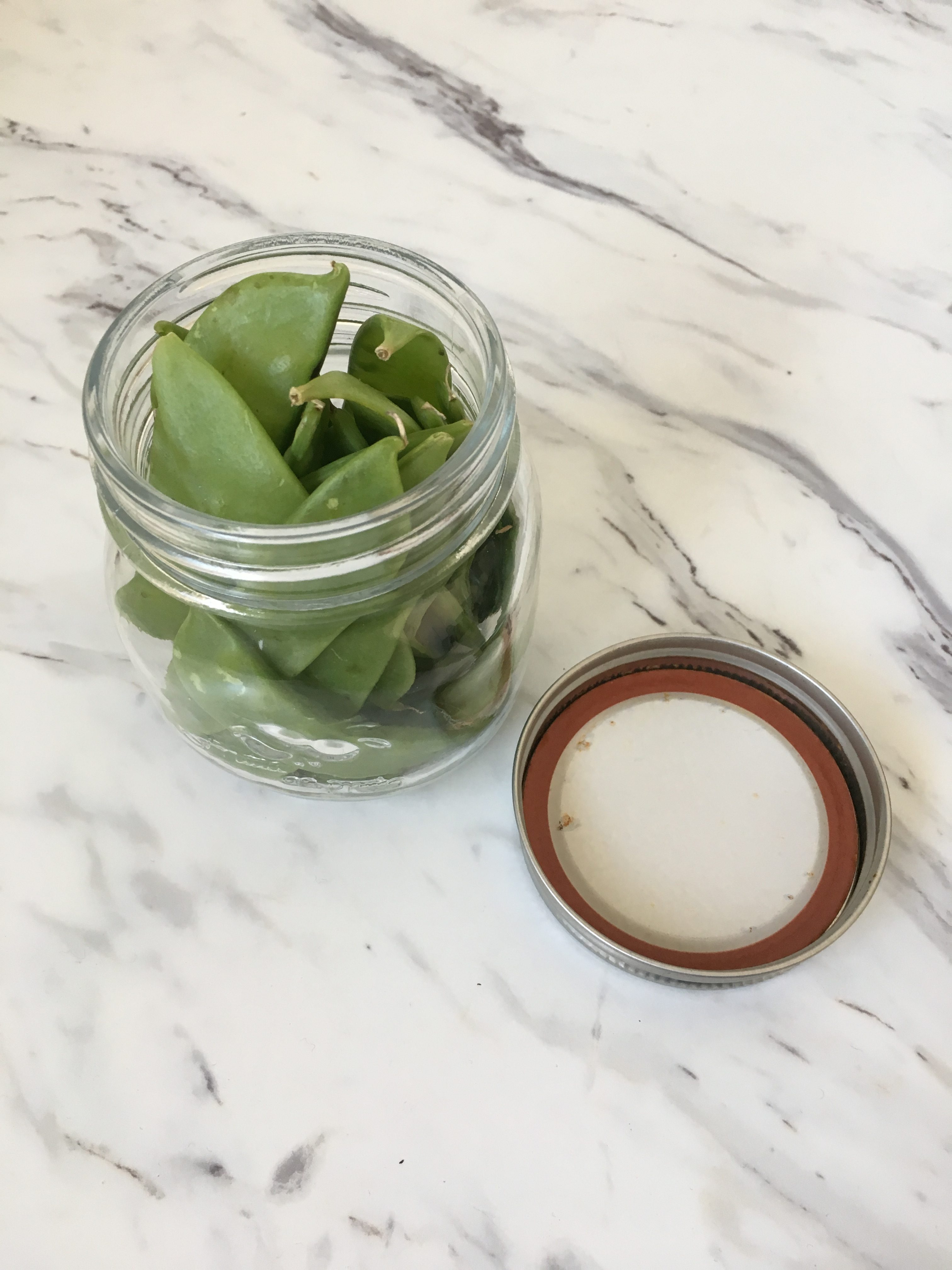 I walked back home, content with my little grocery haul, almost completely waste-free.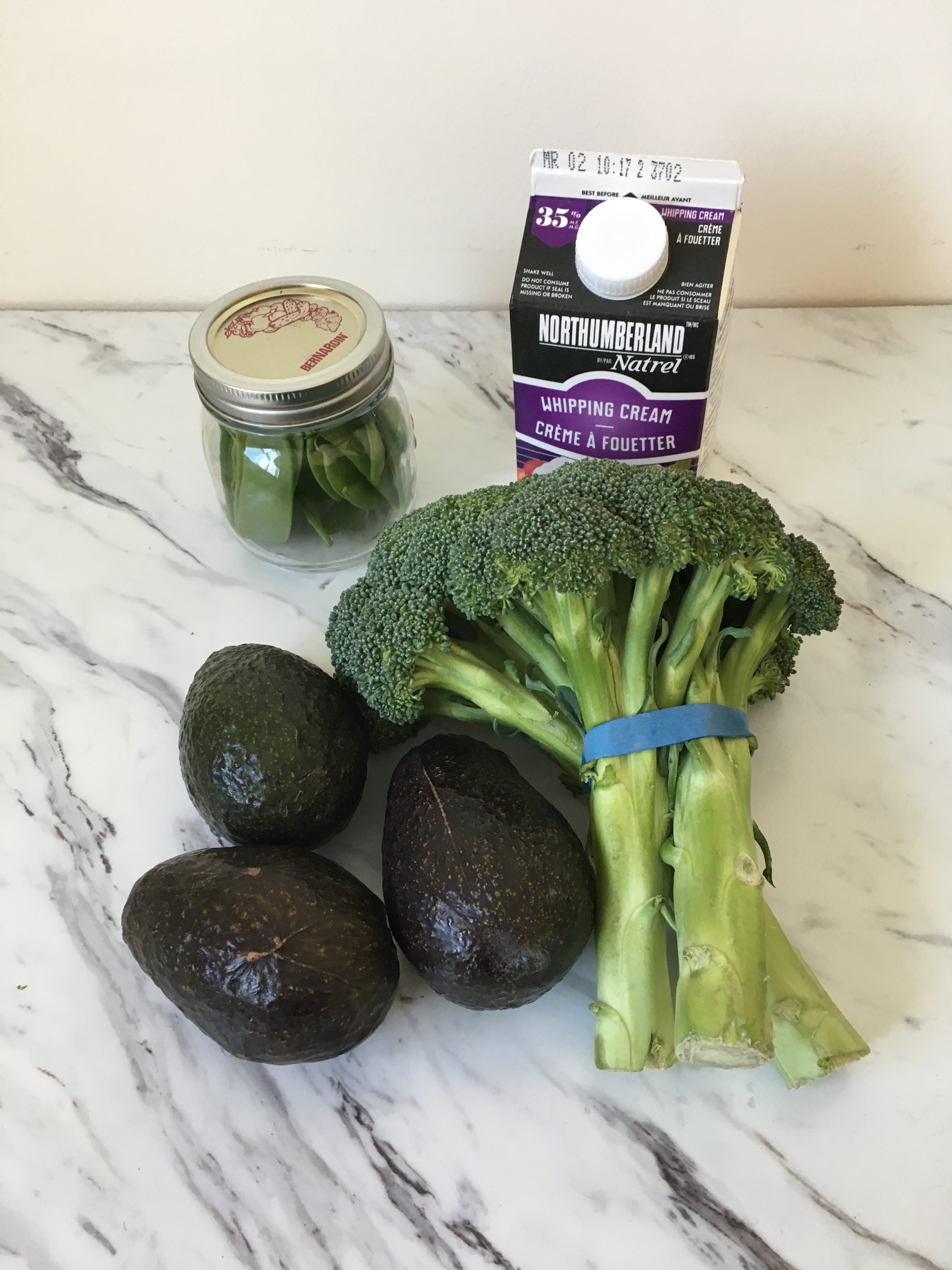 Only later did I realized, once again, that I forgot some items. (Please tell me I'm not the only one who does this! Ugh!) I returned to Tomavo later that night when I had the car back, since I had lots of errands to run. The last few items I bought were not quite as waste-free, but I was happy I was able to purchase some local spinach.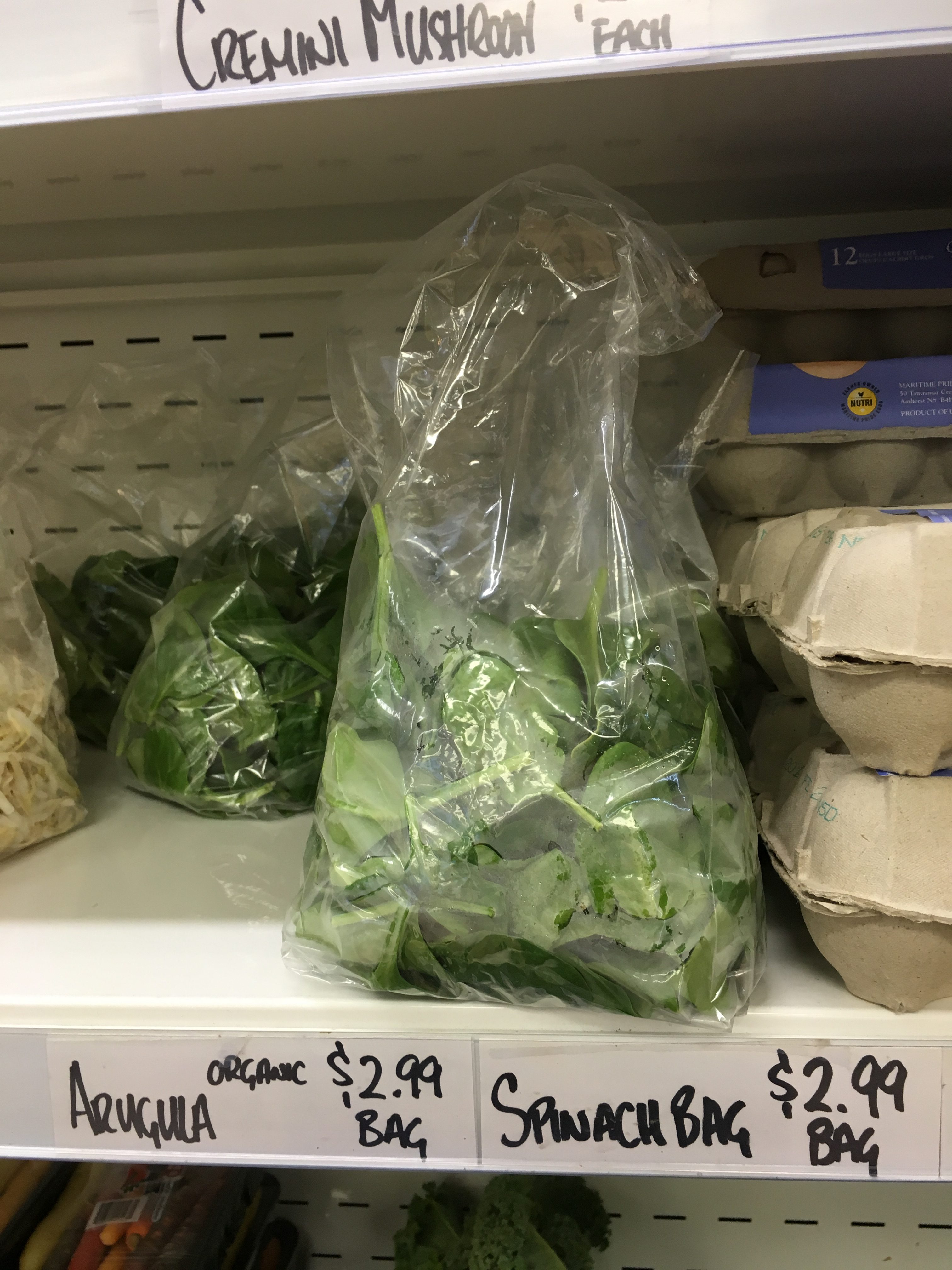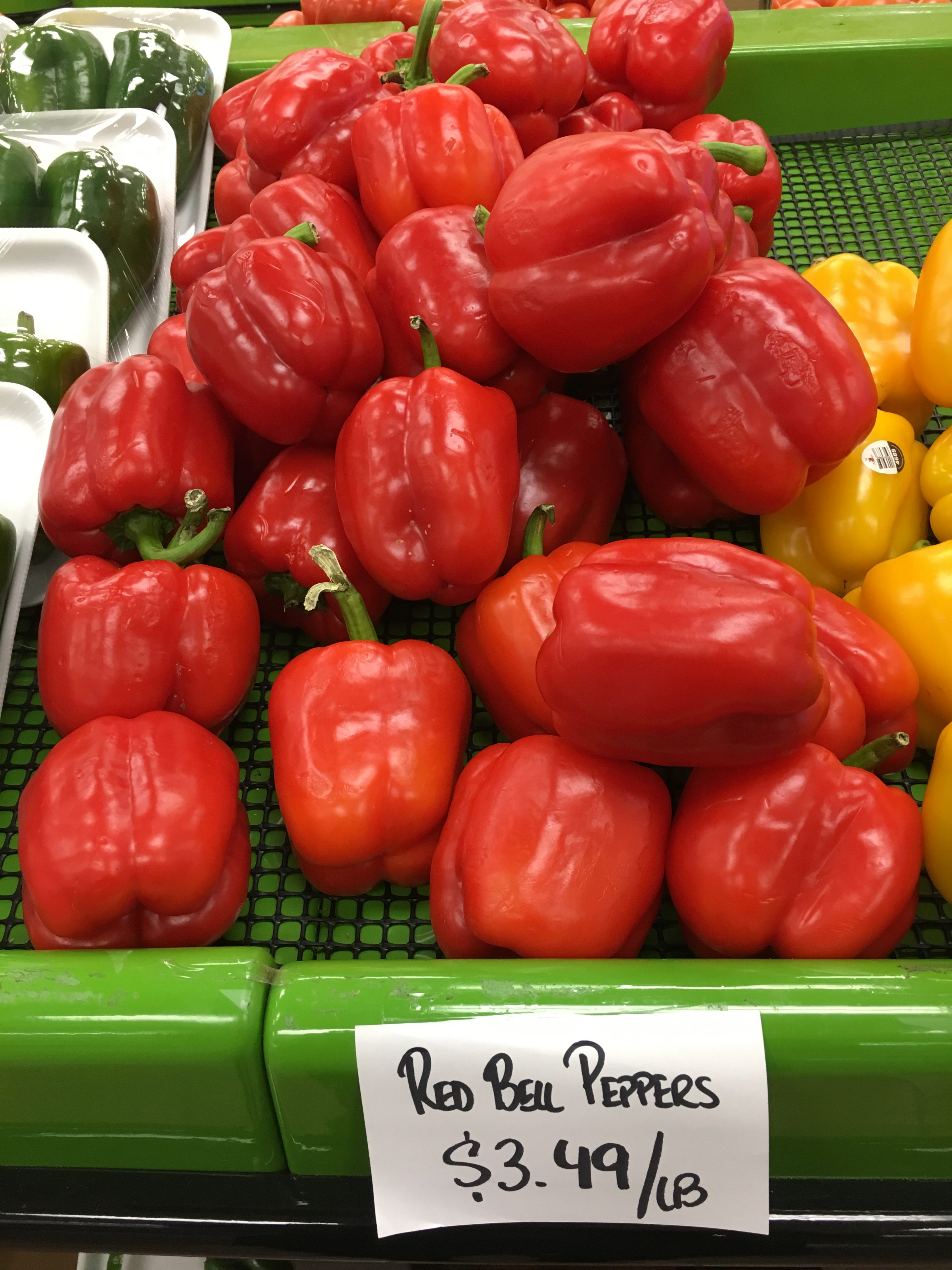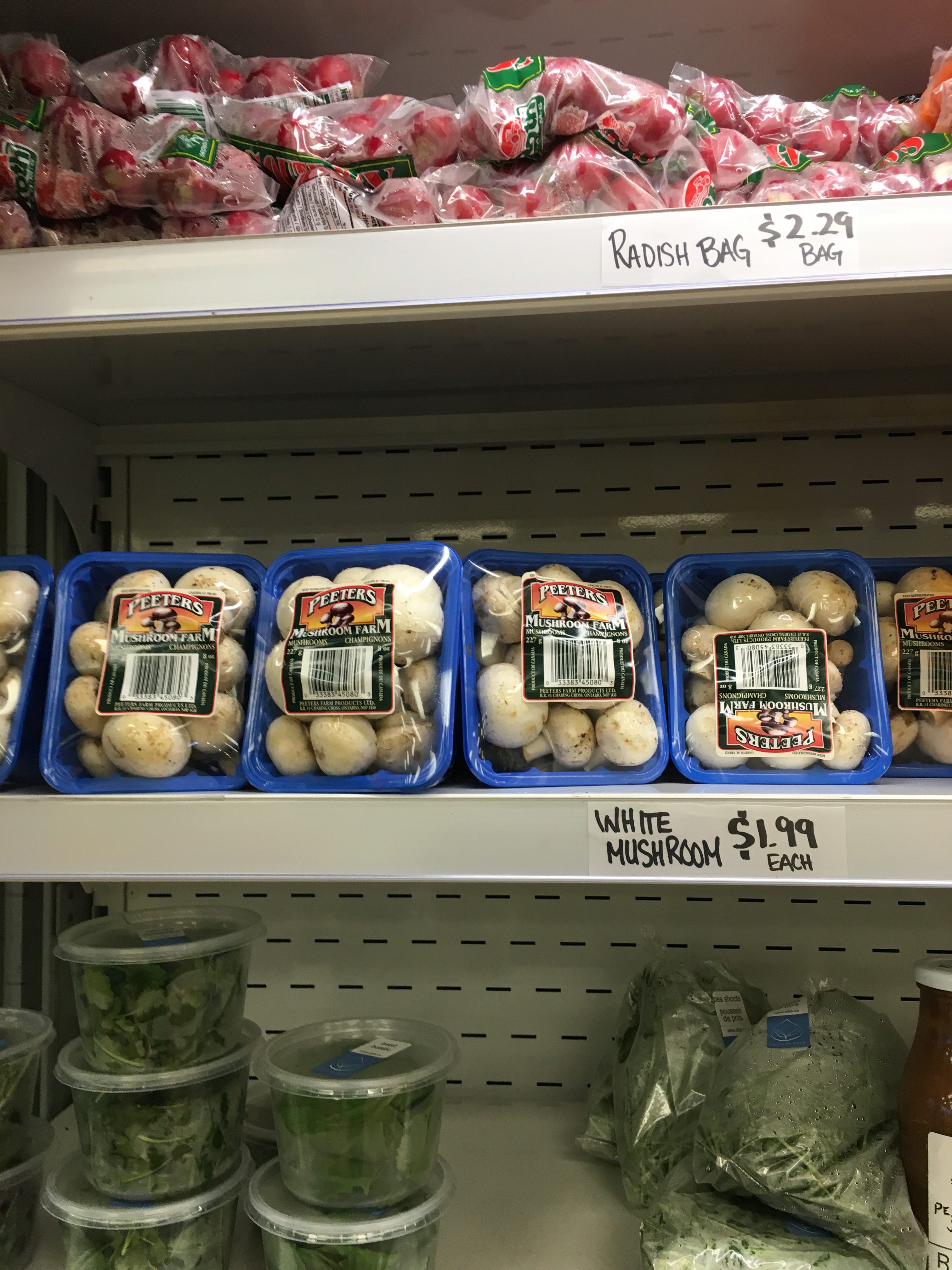 I shared all these photos earlier in the week on Insta Story and was happily surprised when someone messaged me saying Superstore sells unpackaged mushrooms! I will definitely be checking that out next time we need to shop for mushrooms. And as a side note, you too can follow us on Instagram to get a behind-the-scenes look at what we're up to when we aren't blogging!
So to get back to the topic of meal planning and how we did in terms of reducing our waste, I would rate this week a 7/10. We made efforts, brought glass jars to do our grocery (and buy snacks at Bulk Barn too), and shopped local. We bought more plastic wrapped items that was initially planned, but hopefully it will help us save money in March before work picks up again.
Our total spending for this week is: $51.55! 
This total does not include money we will be spending at the restaurant, but since our weekly grocery budget is set at $100, we have plenty of money left over for a nice night out. Yay for frugal living!