When my mom first moved to Halifax in 2001, I wasn't all that impressed by the city itself. It was probably due to the fact that I had no friends and didn't really leave her apartment much. And so given that information, you can imagine I didn't really know what the city had to offer me. After visiting her many, many, MANY times, I began to start seeing all the great things there were to do when visiting Halifax, so I thought I would share some of my favourite things with you.
Walk In The Park
This had always been my all time favourite thing to do every time we visited Halifax. Whether it was the Public Gardens or Point Pleasant Park, we always made it a point to go for a walk. Sometimes we would feed squirrels, other times we would just wander around. I won't deny that as children/teenagers, we probably complained more than our fair share. But when I look now, that time spent together as a family is one of my favourite Halifax memories.
Visit Museums
We actually haven't visited any museums in Halifax for a while now, but when we were growing up, my mom would often take my brother and me to the Discovery Centre. I still vividly remember some of the fun activities they had for kids, such as the bubble you could cover yourself with and the weird box you put your head into that made you look like you had no body. I've heard SO many great things about the newer stuff that you can now see and do at the Discovery Centre that I'm hoping we can find time to visit next time we are in Halifax.
As for Max, he is dead set on visiting the Museum of Natural History to see the Body World RX exhibition. Unfortunately, we didn't have time to visit this past weekend, but we're trying to make plans to drive back up to Halifax before April 22nd, which is the last day this exhibit will be on display.
Listen to Live Music
During our stay in Halifax, we had planned on going to see some live music at Stayner's Pub on Sunday night. This used to be a tradition I had with my mom and step-dad. We were all big music lovers so we would try to go out somewhere to listen to live music every time I visited them. Our plans didn't exactly pan out this time because my step-dad was feeling under the weather.
On the bright side, we still got our dose of music on Saturday. In the morning, there was live music at the Farmer's Market, and at night, we played some personal favourites on the bluetooth speakers with my mom, my step-dad, my step-aunt and her husband.
Farmer's Market
I was so happy we were able to make it out to the Farmer's Market at the Seaport in Halifax on Saturday morning! You probably already know how much I love the farmer's market in general, but the one in Halifax always feels like a treat since I don't get to visit it very often. There are also a lot of different vendors compared to Moncton and Dieppe so it's fun to look at what other products are available.
My mom drove Max and I down to the Market around 10AM and we spent almost two full hours there! First, we just walked around to see what there was.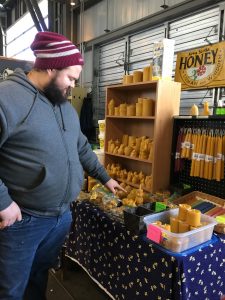 Then we made our way to some of the vegetable vendors, as I was looking to buy a red onion and a sweet potato for our grocery list (see our weekly meal plan to see why!)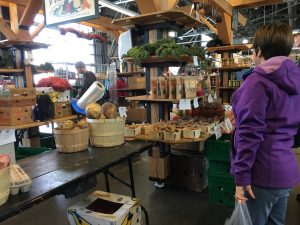 By this point we were all getting a little bit hungry so we went off in search for food. Our first purchase was this delicious crepe – a personal favourite to both me and my mom.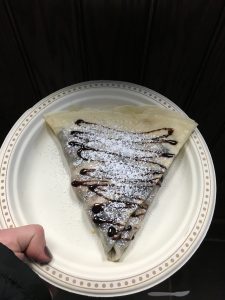 I was actually quite full after sharing this crepe with my mom, but when I first laid eyes on this donut, I knew I HAD to have one!!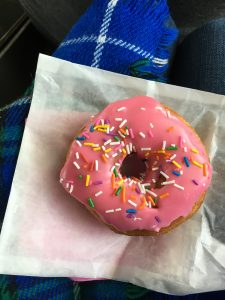 We also spotted lots of great items that you might want to check out if you are visiting the Farmer's Market in Halifax.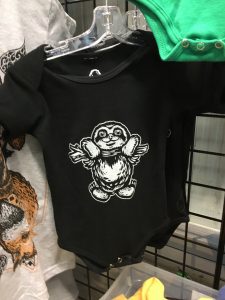 Shopping
And of course, it wouldn't be a trip to Halifax without doing a little bit of shopping (or browsing, as is usually the case). We're still new in the shopping scene in this area, and sometimes driving all the way out to one or two places is so exhausting that we don't have the energy to visit anywhere else. But here's a list of all the places we WANT to check out:
We ended up only visiting two different stores, the first one being this amazing shop called Bay B Boutique. It's a consignment shop for baby and kids items, carrying lots of local vendors products too. They host FREE pop up shops on Sundays and also have a hairdresser available both for kids and moms. And did I mention they watch your kids while you get your hair cut?? If you haven't been there yet, I highly recommend it. 😉 (Full disclosure: my step-sister is the owner and operator of this shop, and she is just as amazing as her store, so make sure you go say hi to Hayley!)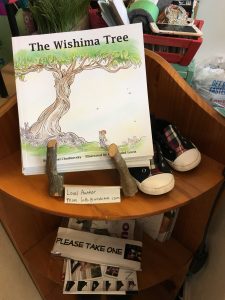 The other spot we made sure to visit this past weekend was Ikea. I've been wanting a new desk from there ever since they first opened last year, but I haven't made the plunge. I know I should save myself some money and just buy a second-hand desk on kijiji. So if you have any leads, please let me know, I would love to have an actual desk to work on!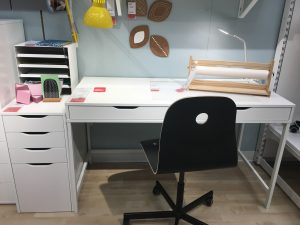 What we did buy at Ikea was a few kitchen items for the Tiny House. Other than that, we mostly just walked around, browsed all the beautiful items in the store, and had some fun!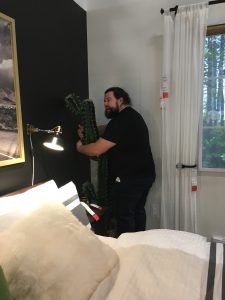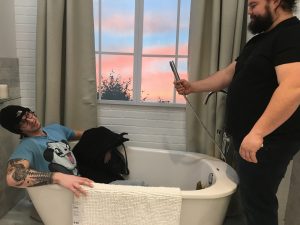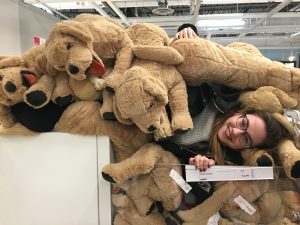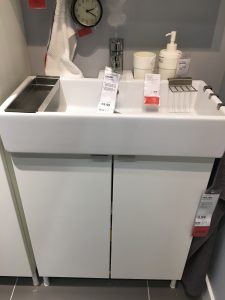 I'm often the one taking photos, so I thought it would be great to get Max to be my Instagram Boyfriend for the day. He said he would take a nice one if he could also take a funny one.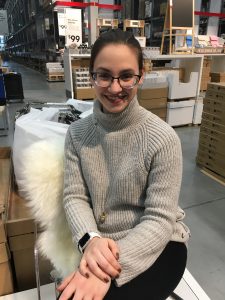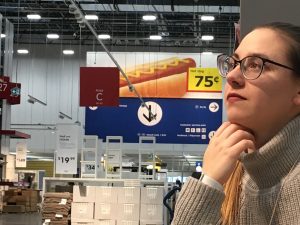 So that about sums up our time spent in Halifax, as well as lots of other great ideas on what to do in Halifax for future visits!
What's your favourite thing to do in Halifax? Let us know in the comments!