In case you're not familiar with my meal planning posts, I highly encourage you to give this post a read before moving onto this June Meal Plan. Today, I'm sharing my June Meal Plan in hopes to encourage and motivate you to meal plan for the coming month. Meal planning is essential for saving money and reducing stress at home, knowing that you will have everything you need on hand for multiple meals each week.
Monthly Meal Planning
I've created a monthly meal planning printable that is available to all subscribers – you can sign up here if you would like to access them.
My June Meal Plan consists of one month's worth of meals, each entered into the daily boxes. Some boxes will remain empty, as they are flex-days for when something unexpected happens. Meals are often pushed back and it's important to allow space for that and not buy extra food for other meals; this helps reduce food waste.
New Recipes
For the month of June, I've decided we're going to try to implement one or two new meals throughout the monthly meal plan. Hopefully we'll be able to continue this moving forward. Our new recipes are often found on Pinterest, but we did decide to browse through our cookbooks as well. We decided to try the two following new recipes for the June Meal Plan:
Butter "Chicken" Rutabaga (Matty Matheson's Home Style Cookery!)
Sesame Tofu with Broccoli
Weekly Meal Plan Template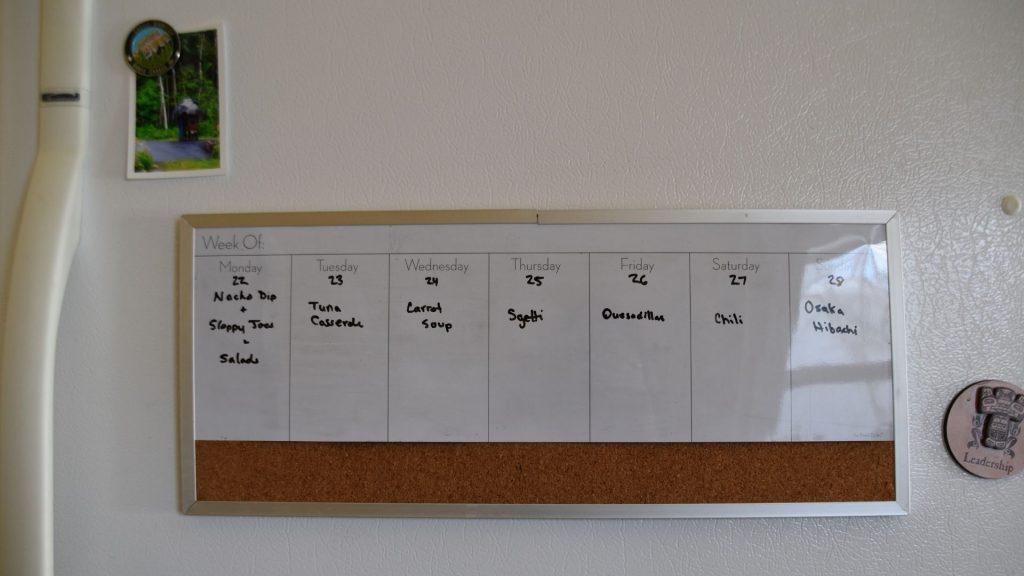 I like to break down my monthly meal plan into a weekly meal plan. We have a great dry-erase board that we've magnetized and set on our fridge for easy access. We pass by it daily, which reminds us what we are going to eat during the week.
The first week is always the easiest, because we're very motivated to stick to the meal plan at the beginning. And when we can't stick to the plan, we acknowledge that life happens, and we make adjustments. I usually try to adjust in the following week, either into a day with no set meal, or replacing a meal altogether.
Tiny Adventures Journey // June Meal Plan
Here is a look at what we have planned for the month of June: