I've been meaning to write more about my trip as I travel, but I've just been so busy and having such a great time, it was hard to take a break and sit down at the computer. Now however, it feels like quite the opposite. It's been two and a half weeks, and I'm back in Sydney. I am alone again, and it has been hitting my like a brick.
I was so incredibly fortunate to have been able to spend the last week and a half with friends new and old. The first week was entirely spent in Brisbane at Vanessa & Matt's place, and what a fantastic week it was. They were both working through the weekdays, but that was fine by me because I needed a bit of downtime at the beginning, and then I had tons of places I wanted to visit that would take most of the day that they had probably visited a billion times every time they had Canadian guests over. We spent pretty much every night together, mostly relaxing after we had all had a long day either at work or at play – or both! Then the weekend came and I had made sure not to make any plans at all, so we headed out on the jet ski on the Sunshine Coast for the first day, then a little drive down to Gold Coast on the second day. And of course, plenty of time to enjoy the sun, and the pool in their backyard!
And that was just the beginning! I was pretty sad at first to be flying out of Brisbane, but my next destination turned out to be just as incredible! I landed in Rockhampton on February 13th, where Max's friend Greg met me at the airport. I was a little worried because we hadn't talked about the details of picking me up, and I only got his text when I landed, saying "I'm wearing maroon." I smiled at the text. Typical. And I regretted now following Max's advice to bring his maroon sweatshirt. It's part of their bond, among the Paintball Commonwealth. But then again, who wears a sweater when it's +30 degrees celsius? It would have stayed in my bag the entire trip. Part of me still wishes I had it, at least it would remind me of home. But Greg did just that, no sweater required!!
Basically, this man is a carbon copy of my boyfriend, but with an Australian accent. Ok, and a nicer moustache – sorry Max!
I don't think we ever had a moment of silence, I was just talking so much and asking so many questions. And he was SUCH a great guide! We honestly didn't even stop during my three days there. And I honestly really wish I would have extended my stay, because it was so nice to spend time with such a wonderful person – whom I had just met for the first time!
We basically spent every single minute of the day together doing some activity or another. It started right after I dropped my stuff off at his place – we went to visit some local spots, best of all, a local catholic church that just took my breath away. I think it was also the feeling of being "at home," and thinking of my grandma as I walked through the entire building. It was so beautiful and peaceful, and he didn't even know how much it meant to me, how much it actually touched my heart that he ended up bringing me there.
I was actually sick that day I landed, and I was trying so hard to keep my energy levels high. I had been taking cold medication – holy shit, they've got some strong stuff down under! Apparently you can only take the pills for 3 days in a row, because of addictive products in the medication. The good thing is they worked friggen well, but it was still hard to stay in top shape. To the point actually where I was laying on the couch, half dead, and Greg offered to make me some pasta with loads of onion and garlic to help boost my system. What a life saver!
I think I dozed off for a bit, and then the meal was all ready! The heat was hitting me hard so I wasn't able to eat even half, but it was very delicious and I could already feel the antioxidants making their way into my body! A few seconds later, I closed my eyelids for just one second and – BAM! I fell asleep for two hours. At which point I dragged myself into bed and thanked Greg for everything.
I slept like a log that night, like… even better than I had slept in the air conditioning at Vanessa & Matt's house in Brisbane for an entire week. And let me tell you it was not cold in Rockhampton, no sirree Bob! But I was so tired from everything, my body obviously needed the rest. We didn't set a wake-up time for the next morning, although I was sure I had woken up before him. I talked to Max a bit and went about my morning business. But when I went to the washroom, it looked like his bedroom was empty. I took a quick shower, and when I later went into the kitchen, he was sitting there sipping tea. I quickly got dressed because I didn't want to make him wait, and when I went to talk to him I noticed something on the table there beside him…
OK, don't make assumptions. You have no idea if he has a girlfriend or not. That rose might be for someone else. 
"Hey, by the way, Max wanted me to go out and buy you this."
He points to a beautiful red rose and a family pack bag of M&Ms. Oh my God, my boyfriend is SO PERFECT! He is 20 000kms away and he still managed to get me something sweet for Valentine's Day! (Keeping in mind that with the time change, we are never living the same day at the same time, so I still had time to plan my Valentine gift…)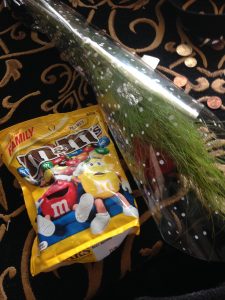 I couldn't smell much, because I was still sick, but Greg told me that the flower smelled very nice – as roses always do.
I ate a little bit of breakfast, drank some tea, then off we went to start our day anywhere cooler than here! First stop: Capricorn caves! I had looked into it quickly, and I didn't know much other than I just wanted to do the simple walk around, no adventure stuff for this sick girl.
We got there at 9:30AM and had to wait for the next tour to begin at 10AM, but that was fine by me because it gave us plenty of time to look around and read all the information about what the heck these caves means and why they're important. Click here if you wanna read about it!
I hadn't thought about it much, but jeez was it ever a good idea to go through those on a hot day – the temperature was about 10 degrees lower inside the caves, and they aren't even underground caves. These caves are actually above ground, but still keep the damp coolness to them. Unfortunately, this meant it was not ideal for the bats to have babies, so we didn't get to see them since if was birthing season. But we did get to walk over a bunch of guano – that means poop!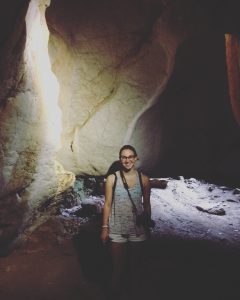 After the tour was done, we took a drive down to Yeppoon and checked out some lookout spots and beaches. Once again, we didn't stop talking the entire trip. We grabbed some fish and chips on the oceanside and ate and talked about God-Knows-What. It started drizzling a bit, but it didn't seem to worry Greg one bit. We got back into the car and drove down to another spot – a creek, can't remember the name. Apparently it's usually hustling and bustling down there, but because of the weather, there wasn't a single soul! We had the entire place to ourselves. Part of me was worried the water would be "cold" (I'm a wuss), but Greg went right in… so I took a leap of faith and got in the water!
Surprisingly, it was quite nice and we hung out in the water for a while, until the rain started coming down again. I was a bit worried about my phone and all that inside our bag so I figured it would be a good time to call it quits – before it started pouring, which it did.
Unfortunately not a lot of the rain made it to Rockhampton itself, but it was a nice drive back through the downpour. The air was a little bit cooler than the first night, and again, I slept incredibly well.
My last full day in Rockhampton was the one I had been waiting for: a snorkelling trip to see the Great Barrier Reef!!
I'm just gonna start off by saying I am so incredibly happy Greg came out with me – I don't know what I would have done without him! Firstly, I got majorly sick on the boat (Damn you seasickness!). I mean, nobody can really do anything for that, but it was nice to know I could ask someone to go get me some water, or another barf bag, or what have you. I, of course, told him he didn't have to hang around me, I knew right away that I was inevitably going to throw up.
Fortunately, the ride out was only 30 minutes, and I got sick when we were almost there, so it didn't last for too long. The only down side was that the tour we had paid for was heading back on the water in a glass bottom boat to view the Great Barrier Reef. I tried to see if I could muster the strength, but there was no way in hell I could manage going back on the water. I asked the lady if it would be alright for me to sit that part out and just relax on the beach. She said it was no problem, as long as the driver knew that he could leave without me on board. I'm happy Greg ended up going because that way he didn't have to miss out, plus he could take some cool pictures of something I would otherwise not have seen.
On the beach, I actually just walked around for a bit, bought an ice cream bar (Oh my God, it was so delicious), and went swimming in the super warm, super blue ocean!! Now THIS felt like a vacation! It was so quiet, there were only two other people around and they weren't there for very long. Paradise, I tell you.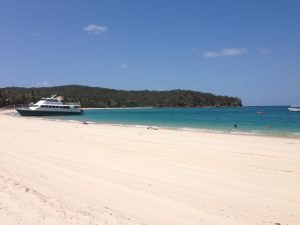 When the boat was pulling back in, I walked toward the landing spot and met up with Greg. Turns out that lunch would only be served later so we had about an hour on the island. Oh by the way, we went to Great Keppel Island!
I was glad we had some more time, half because it would give me even more time to gather my bearings, and also because I wanted to walk around some more.
We visited the local pub/restaurant, and got a cold drink while enjoying the view. Time flew by and we were actually the last ones back on the boat – then lunch was served. Unfortunately, lunch was being served as we sailed away. Damn it. So much for eating then.
I was getting hungry, and was wary, but the good part was that we were now just driving slowly on the ocean, we weren't going full speed or wavering about anymore. I figured I should try eating something before we headed out for the snorkelling trip.
A few bites of corn and some fruit later, it was time to get geared up! We were the first ones in line, although not the first ones to dive because the super nice lady to whom I had been speaking ever since I started feeling sick mentioned that she could get me some (weak, but still) prescription goggles!! I think that was the best news I had heard all day! I didn't even know that was a thing, but man that would help! I hadn't even thought about the fact that I didn't have any contact lenses – even though Greg had already mentioned that's why he wasn't wearing his glasses.
Well, they surely don't make 'em thick enough like my glasses, but I could already see a difference, and I was so excited to jump in! Of course, not before getting a cute photo of me all dressed up!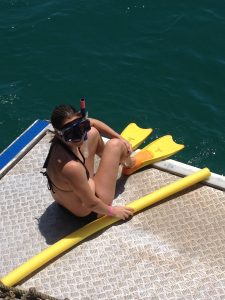 Greg and I jumped in around the end of the group and started making our way through the water.
Well here's where my heart sank. I jumped in and started looking down, excited as all hell to see what amazing beauty was lying beneath us. And do you know what I saw? Big. Fat. Fucking. Nothing. I wanted to cry. I couldn't see anything. I couldn't see. They must be so far, I thought to myself, I won't be able to see them…
I kept swimming, following Greg, hoping he would at least describe them to me along the way. When all of a sudden – OH MY GOD THERE'S COLORED STUFF DOWN THERE!! I CAN SEE THINGS!!!! YAYYYY!!!!
I couldn't stop looking down! There was blue coral, like cute sky blue! There were some pink ones, lots of white-ish ones, and wow!! A big bright neon green one! Some were all wiggly and others were sharp and point! AND I COULD SEE THEM! Probably not as well as everyone else, definitely not as defined, but I could still see them!! At first, I couldn't really see the fish. I knew they were there, because there was a lot of moving black blobs, but they were further down and my eyes couldn't focus well enough to make them out. (Side note, they were small fish) But then a big school of fish was swimming underneath us, like, REALLY CLOSE, and I could see them all!
We kept swimming and swimming and swimming, I'm sure for much longer than we were supposed to. It actually felt like time slowed down so we could fully appreciate nature's beautiful creations. I swear, I can still see all of the different corals going by slowly if I close my eyes. On the way back, I saw some more fish, cool striped ones and best of all… I SAW A DORY!
After we got back onto the boat – honestly this was the one part I was most worried about, like, how the hell do you get back onto a boat when you're wearing flippers and a pool noodles?! – and heading up to grab some hot tea. What a great idea, tea and cookies after a dive!
We took our things and went upstairs, assuming that was the end of it. But no! There was also the opportunity for everyone on board to try boom netting, whatever that is. OK, so I don't know exactly what it is, but basically you jump off the back of the boat and grab onto the net and let yourself ride by hanging on. I was debating trying it out, but I felt it would be best to try to rest, especially since I hadn't eaten much.
After all that, we headed back to the island for the end of day pick-up, and we made our way back to shore. It should be noted that the water was MUCH calmer on the way home, and I was surprisingly not sick.
By the time we got back to land, I was just about ready to go home. We grabbed all our stuff and got into the car, ready to spend the rest of the night relaxing. Greg was kind enough to stop at a Chemist – that means pharmacy in Australia! – and bought me some real hard-ass travel sickness pills. No more getting sick for this girl, and hopefully lots of sleeping on the flights home!
And after that, it was basically all done! Time to head out to Sydney again.
It was hard saying goodbye, both to Vanessa & Matt, as well as Greg. I think – OK, I know – that it was mostly hard because I knew I was leaving them and going back to being alone. Still adjusting to that. But there's always gonna be ups and downs. As much as I hate my low moments, I appreciate them nevertheless because they are part of the reason I know what it is like to feel the complete opposite. I can recognize how great, but also how shitty I can feel, and that in itself is living life to its fullest.
So to all my family and friends, don't worry about me, even when I write shitty stuff on Facebook. We all have good days and bad days, it just so happens most of my bad days happen while I'm in Sydney. But it's homeward bound very very soon, never a dull moment!
xoxo