Plastic Free July has officially come to end. Although today marks the beginning of a new month, it does not mark the day we fall back into old habits. Moving forward, we want to try to make more sustainable choices and continue to improve reducing our ecological footprint. To encourage you to do to the same, we wanted to take the time to write a Plastic Free July review.
Last year was our first time participating in Plastic Free July. We honestly had not idea what to expect. At home, we were already making a few efforts such as having a compost bin instead of throwing food away in plastic bags. We also never accept plastic bags when we are out and about. But what we hadn't noticed before Plastic Free July was how many products were packaged in plastic.
To compare, here are a few lists of the sustainable choices we've made.
2018 Sustainable Choices & Improvements
Purchased glass spray bottles for homemade cleaners
Purchased a second-hand steam mop to clean the floors without products
Received stainless steel straws as a gift
Shopped for vegetables at a local grocery store
Chose items with less plastic packaging
Brought reusable containers to bulk stores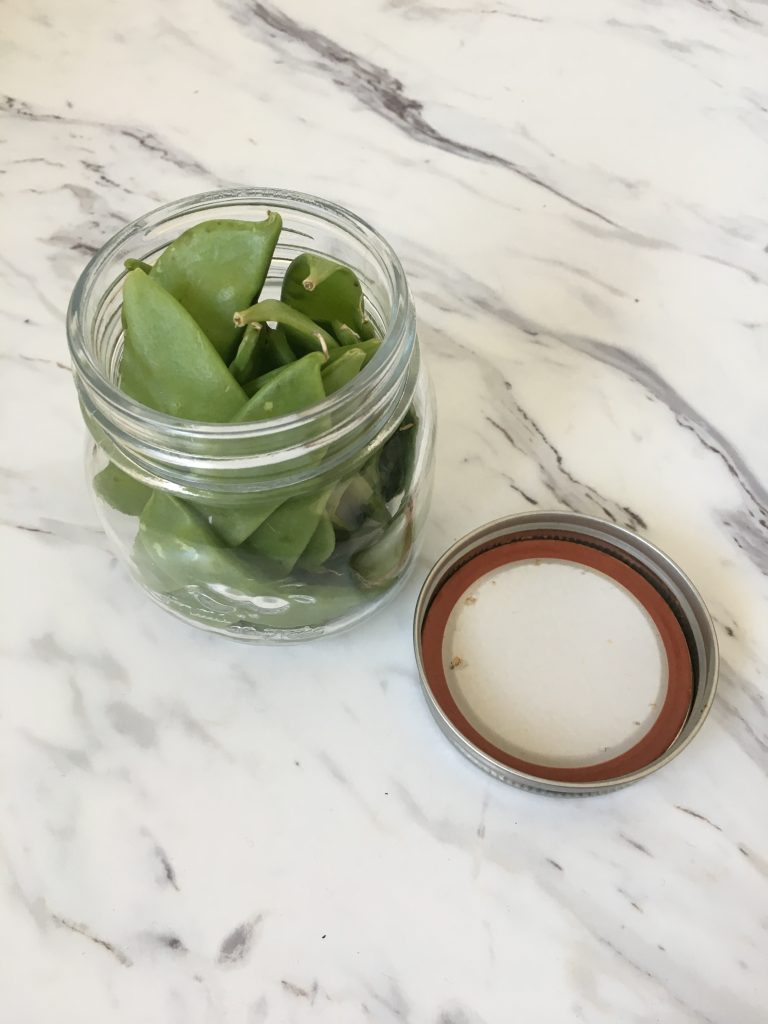 Before we skip ahead to the changes and improvements we've made in 2019, let's take a look at some of the challenges that we've faced by during Plastic Free July.
Plastic Free July Challenges
During the entire month of July, we decided to keep every piece of single-use plastic in a bin to see how much we would accumulate in one month's time. From this, we've learned some important lessons. What we want to share with you all will be divided into two categories: what we consumed, and what we purchased.
Consumed Single-Use Plastic
Babybel cheese wrappers
Plastic wrapping around cookie trays
Mushroom packaging cover (the bottom is recyclable)
Plastic packaging around Costco's cans of tuna
Large bag of M&Ms purchased a while back
Plastic bag from Tortillas
Plastic wrapper from an ice cream treat
Plastic around large package of spaghetti
Old plastic bag from hamburger buns we had frozen a while back
Cheese wrapper
Plastic around large quantity of kleenex boxes
Large bag of macaroni
Bag for bagels
Tofu packaging
One plastic fork while we were travelling
Plastic packaging around box of canned corn from Costco
Plastic surrounding a new tripod
Cat food bag
Cereal bag
Bag of hashbrowns
Area bar wrapper
Old ziplock for cheese blocks
Plastic from frozen pizza
Plastic bag from load of rye bread
Bags from Snapea Crisps
Plastic seal from new Rodan & Fields skincare products
Veggie burger packaging
Plastic around two bottles of barbecue sauce
One mexican candy wrapper
Plastic packaging around tilapia
Plastic packaging around frozen yogurt bars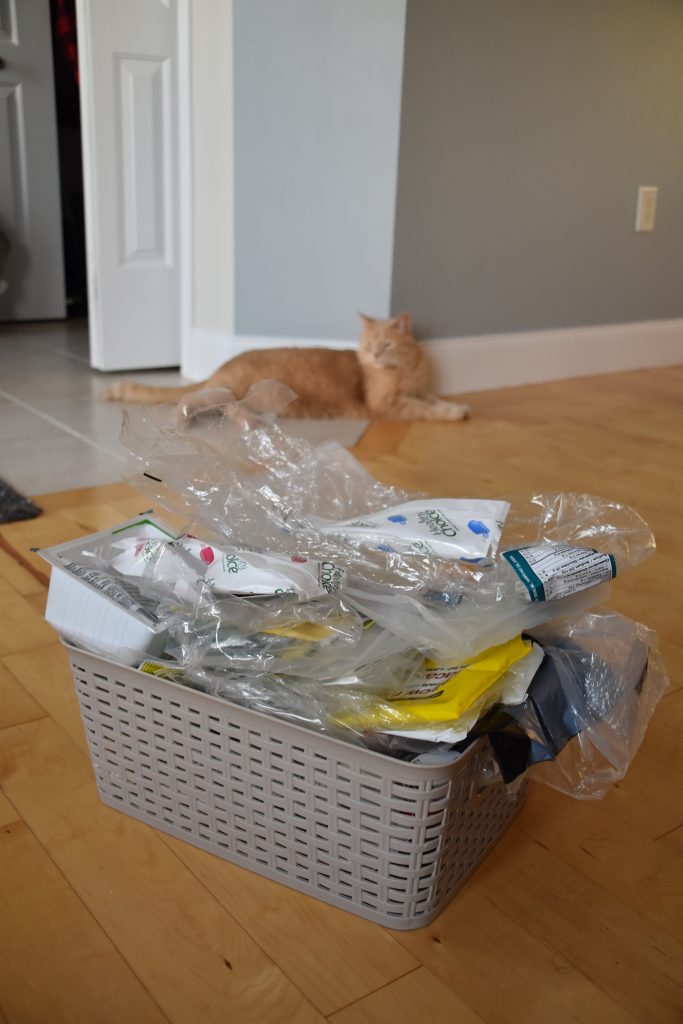 Looking at our bin after the first few days, I felt defeated. I felt like I had failed and that my efforts were meaningless. Fortunately, there are lot of incredible people in my life who were very supportive and encouraging and that motivated me to keep going. Our goal wasn't to avoid using things we had already purchased, but rather to decrease the amount of plastic we were now purchasing.
Single Use Plastic That We Purchased
Packaging for lettuce
Plastic wrap around cheese blocks
Bread bags & bagel bags, which we reuse when we go to the bakery
Packaging for tortillas
Snapea Crisps snack bags
Gatorade during the New Brunswick Highland Games
And Max also bought some meat during the month, some of which had plastic packaging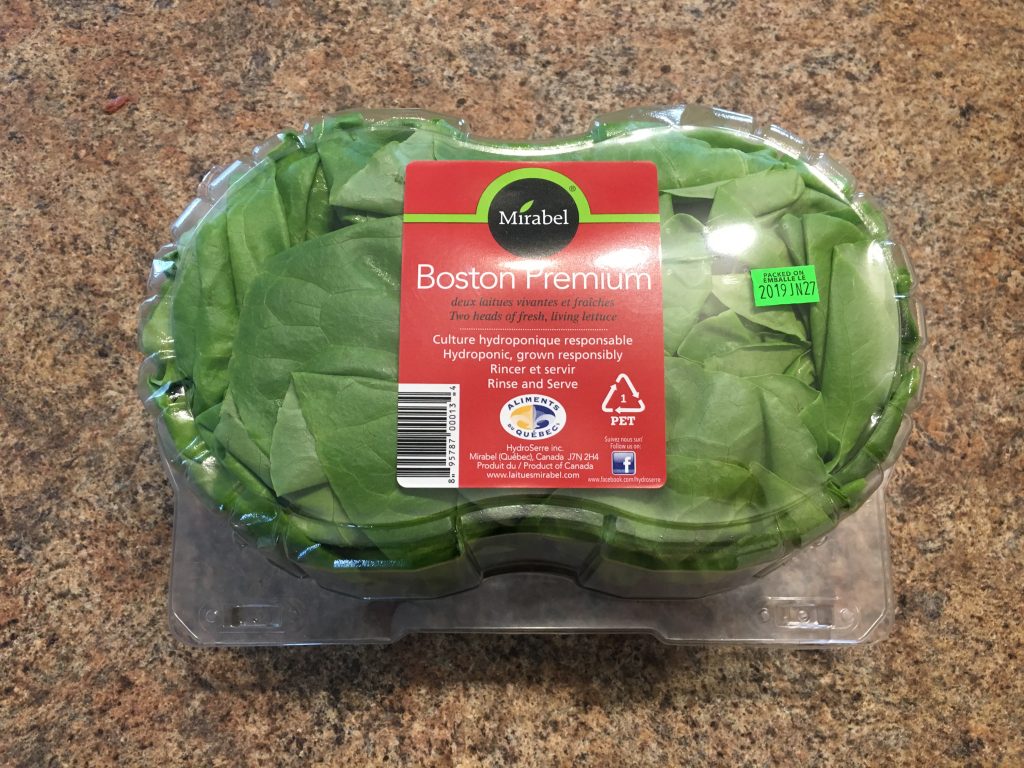 That's it!! Can you believe it? And of course, we found an alternative to the plastic-wrapped lettuce, but that one was the only one available at the time.
How did you do during Plastic Free July?
Enough about me, let's talk about you. What are some of the biggest challenges you faced during Plastic Free July? And what progress have you made towards living a more sustainable life? Let us know in the comments, or reach out to us in private. We want to open up the conversation around the topic of sustainability to everyone, even if all you did this month was invest in some reusable grocery bags.