On Friday May 26th, I was already excited. I cleaned the house and packed our bags so we would be ready to go as soon as Max was done work. I was off on Friday, but he got called in, so we would be leaving later than planned. Fortunately I was able to get Sunday off – something that almost never happens – and so off we went to Cape Breton to attend our very first Tiny House Meet Up!
Destination: Sydney, Nova Scotia
Purpose: Attend a Tiny House Meet-up for the first time ever! (And also visit family)
So I should probably begin by explaining what all of that means.
Tiny House – a very small home, often built on a flat bed trailer, that is meant to be eco-friendly and often, a means to be more financially independent.
Tiny House Movement – not specifically about owning Tiny Houses or building them, but rather about a minimalist lifestyle, about community, about teamwork, accountability, and financial stability. To quote Carey Rolfe, it allows us to "[enjoy] all the things that life can bring."
Meet Up – basically as the name states, an organized meeting of people who have similar interests to discuss about a specific topic. The topic in question this time: Tiny Houses.
Honestly, I didn't quite know what to expect. I figured not many people would show up, that it might not even be a real thing. But I dragged Max over there and we were pleasantly surprised.
As we entered the room where the event was taking place, we were greeted by over a dozen people, maybe even twenty, and not everyone had arrived yet. We looked around to decide where we would like to sit, and we landed where I always prefer to be seated: right in the front.
Immediately, I looked around to see if I could find who was leading the event, because it was one of our goals to record and film during the entirety of the event, and we certainly didn't want to do that without permission. Everyone seemed OK with the idea, and the talk started right away.
The first person to take the stand was a woman named Tracey Harris. We soon learned that she had attended a Tiny House Conference in Portland, OR – they cost a fortune to attend, which is why we have never been – and that she was challenged to take action to help the Tiny House Movement. After mulling over the idea for a while, she decided what she would do to help. And so she decided to organize this Tiny House Meet Up in Cape Breton. She then went on to introduce our speakers: Carey Rolfe, from Underway Tiny EcoHomes.
Carey spoke to us a bit about the purpose of Meet Ups, because he is actually the head organizer of Tiny House Meet Ups all through Nova Scotia. But mostly, his talk focused on his business and what they do. It was surprisingly impressive, especially to find this kind of work being done in Nova Scotia. Basically, his company not only works on building Tiny Homes, but also acts as a supplier for materials specific to Tiny Houses, some of which are just not available at the local home renovation stores.
"Our goal was never to be the builder of choice, but rather to be the supplier of builders of sustainable homes."
One of the products that they are encouraging others to buy are Structural insulated panels. In short, they consist of two sheathings – I am pretty sure this means two pieces of wood, one of the outside, one on the inside – with an insulating piece of foam core in between them. Why is this is better than regular insulation, you might ask? Well, for Tiny Homes, the benefit is definitely the space aspect of it. Using this type of insulation makes for thinner walls and allows you some extra space on the inside of your Tiny House. And of course, that's on top of all the usual benefits of their strength, their efficiency, and how cost effective they are. According to Cary Rolfe, the R value – I was told this means the power that the insulation has to keep the heat in – is "as much as a 2X6 wall."
Carey also touched on other subjects during his talk, and one thing that really spoke to me was when he started mentioning financials. Reality check – it's not always possible to build a Tiny House for under $20 000 in our climate. We live in East Coast Canada, not in Portland, Oregon. We have really cold temperatures, we have strong winds. We have large amounts of snowfall, and we have large amounts of rainfall too. We live in a 4 season environment, so our Tiny Houses need to reflect that. And that being said, it is – in my opinion – better to put more money into your Tiny Home to ensure its longevity if you do plan on living in the Maritimes. And speaking of living tiny in the Maritimes, that's exactly what Judy and Nicki were there to share with us.
Judy and Nicki first moved into their Tiny House about 18 months ago, which is located in a small town outside of Sydney, Nova Scotia. If you haven't heard of them, you definitely need to check out this CBC Article and watch their video.
Their Tiny Home is nothing but ordinary. It is incredibly unique, in the sense that it meets all of their wants and needs, all inside a very small space. They have all the luxuries they don't want to live without – and that includes a tiny dog elevator!!
You read that right – a doggy elevator! Judy and Nicki have an 11 year old corgi named Shanti with a bad back who has slept in their bed since they adopted him, so they told the builder that they couldn't move forward until they could find a way for him to get upstairs. And after much research, the builder – Matt from Howling Dog Construction – came up with the idea of a small electric winch-powered elevator that the dog would fit into!
Of course, there is much more to their Tiny House than just their doggy elevator. I was happy to see that they decided to go with steps instead of a ladder to get to the main loft – our preference as well. They also had a very cool kitchen design, which was U shaped, with one of the back corners being used as storage – from the outside of the house!
When it was finally time for them to make the move into Tiny – that's what they named her – they found themselves asking one main question: "What am I attached to, and why?" A very important question indeed, as I think we are all aware that one of the biggest sacrifices when making the move into a Tiny House is downsizing the amount of stuff we own/keep.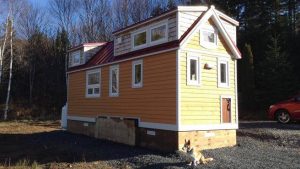 As for insurance – which is one of my biggest concerns – Judy and Nicki explained that their Tiny House is insured as a Mini Home. However, they did have to get it tied down and skirted for it to be considered a Mini Home. We still aren't too sure how that will work in New Brunswick, but I'm assuming it's probably the same as in Nova Scotia.
To finish the Meet Up, Matt from Howling Dog Constructions brought up some photos of his two Tiny House builds, the first being for Judy and Nicki, and the second being a much more luxurious Tiny House for a couple from New York who wanted a summer home in Nova Scotia. And of course the question came up: how much does a Tiny House like that cost? This New York couple paid a whopping $130 000 for their custom made Tiny House – keeping in mind that they paid a builder for his time, on top of all the materials including furniture and appliances, one of which included a special order backsplash from a showroom in New York. At this point, Judy and Nicki spoke up to let us know they most certainly did not pay that much for their Tiny House, but it just goes to show that you can put whatever amount of money you want into a Tiny House and make it work for your wants and your needs.
And of course we stayed after it was all done, just to say thank you to everyone, and to ask some more questions. Max went to speak with the two builders, one of which Max spoke to intently about the design he had done in regards to structural integrity. As for myself, I went to speak with the organizer of the event, Tracey, and had a great conversation about what our plans are for the future – Max and I, that is. She proceeded to tell me she was actually writing a book about the Tiny House Movement and would love to stay in touch and possibly ask us some interview questions for her book. I thought that was so cool because we are planning on documenting the entirety of our project, and not only would this be extra publicity for us, but I could also get her advice and expertise on the whole writing aspect.
All in all, I think it's safe to say we had an amazing time attending this event and it has just instilled even more motivation for us to get started on our own project. We know we've still got a long way to go, but we hope you'll all be following along with us as we go through this new journey in our life.