We're doing it – Tiny Adventures is going to launch a Facebook Page for our Tiny House project next Saturday!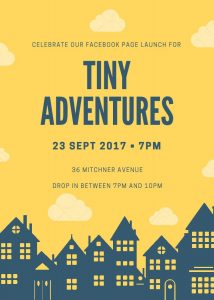 That gives me just a little over a week to prepare everything, and I'm actually way more excited than I thought I would be. We aren't ready to launch our website yet, and I'm sure that will be exciting too, but this kind of feels like the real first step in documenting our Tiny Adventures.
Here's the game plan – I've created a Facebook Event to announce the Facebook Page launch, and we're hosting a little drop-in get together at our house! OK, so this may or may not be why I'm excited…
I decided we're going to have a theme for this little get together. Can you guess what it is? I'm not going to ruin the surprise, so you'll either have to show up or wait for the pictures on Saturday evening!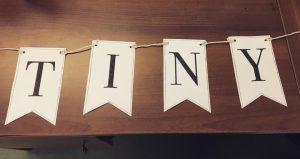 What I can tell you is a little bit about the project itself. My boyfriend Max and I have been talking about building our very own Tiny House for the past couple of years, and we are finally starting to get things on track.
The most important part for me – other than obviously having my own home – was to document our journey, and publish everything on an independent website for the first time. So we did some research and were so fortunate to have one of our very good friends offer to host this website for us.
And obviously, before we could start documenting anything, we had to have a plan. And more important, a name! Max and I did a lot of brainstorming and research to see what other names existed out there for Tiny House projects. We wanted something that was direct, so you knew what the project was about, and something simple enough that you didn't have to type a long sentence to get to our website. After much debate, we finally came to agree on a name we both loved: Tiny Adventures.
One thing that I particularly love about the name is that it doesn't even have to be limited to the tiny house build, it can reach beyond that and extend to so many more adventures that are to come in our lives as Tiny Housers.
After choosing the name, it was time to figure out what we wanted to do with this project. The website was my main priority, but I think we are all aware that the best way to reach people is to be present in social media, namely on Facebook and Instagram.
Of course, you can't just decide you want to create an account or a page without any content. So our next step was to do research, read books and articles, talk to people, attend events, and just get involved in the Tiny House community. We wanted to be able to post things that were relevant, interesting, and obviously, all about Tiny House living.
Among other things, I am super excited to share some blogs and podcasts we stumbled upon, as well as resources that are accessible in the Maritimes! And of course, my favourite part is always writing about my own life – surprise!