If you're looking for resources, you've come to the right place. Here you will find information about other people involved in the Tiny House Movement, people who have influenced us or helped us in one way or another. If you think something is missing on this page, please don't hesitate to contact us to let us know – we are always looking to update our resources!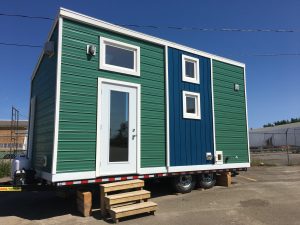 Information Ressources
Tiny House Customs
Dan from Tiny House Customs is Max's all-time favourite Tiny Houser. He films videos and uploads them to Youtube and Patreon. He has been active only since 2013, and started building his own Tiny House in 2015. His videos are very informative, as he does all the work himself and explains what he does and why he does it. His ideas are very unique and he's making his Tiny House work for his own needs – and his dog Peanut.
Tiny Nest
Carmen's favourite Tiny Housers on Youtube are Jake and Keva from Tiny Nest. They are consistently putting out great content all about Tiny Houses, including the progress on their own build. We particularly like checking out their content because they are Canadians, just like us – but at the other end of the country.
SHEDsistence
Another great ressource for Tiny Houses is SHEDsistence. Robert & Samantha's blog has got everything you need to know about planning, building and living in a Tiny House. They're still very active on their website and social media which means they are great at answering any questions people might have. They recently had a baby and they're making it work in the Tiny House. Props to them!
The Tiny Life
One of the first websites we stumbled upon when doing research about Tiny Houses was The Tiny life. This blog has so much helpful information. There are plans and books available for purchase, not to mention endless amounts of blog posts with tips and tricks on downsizing, saving money, and much more.
Tiny House Build
Another frequently visited website during our research was Tiny House Build. Their Free 7-Day E-Course was why we first signed up, and it was well worth it! They are a great place to check out if you're looking for any information on how to build your own Tiny House.
Tiny House Talk
The website Tiny House Talk is also a great information source for anything Tiny House related. They have pages about different kind of small homes, house plans (some of which are free!), workshops, consultations, etc! Definitely give their website a look if Tiny Houses peek your interest.
Building Ressources
NOVA SCOTIA:
NEW BRUNSWICK:
Kent Homes – See our post about visiting Kent Homes!
PEI:
Link letter's Welding LTD – for trailers!
NEWFOUNDLAND & LABRADOR:
QUEBEC:
ONTARIO:
Tiny House Construction Company
MANITOBA:
…
SASKATCHEWAN:
ALBERTA:
BRITISH COLOMBIA:
YUKON: