If you haven't been following our Downsizing Diaries series, it is a long term project we've challenged ourselves to do in hopes to reduce the amount of stuff we will own before our move in the Tiny House. And today, we'll be taking a closer look at downsizing the living room.
Our Living Room has been in a bit of a disarray for the past few weeks. Not only have we been trying to continue in our downsizing journey, but my brother also bought lots of new furniture, which meant we had to make room for it.
Take a look for yourself:
I feel like it was a smart move – not only do we now have an incredibly comfortable couch in the house, but it forced us to start selling some furniture we won't be able to take with us into the Tiny House. Our old blue couch sold just yesterday for a whopping $250 – and it all went right into our Tiny House Fund.
But we all know the hard part about downsizing isn't the furniture, it's all the little stuff. So let's jump right into it.
I started off with the bookshelf, because it is the one spot I find accumulates the most stuff. No, I'm not going to get rid of every single book or DVD that I own, but I will start making piles of what I want to keep and what I want to sell/get rid of. Just by glancing at it, I can already start listing things off on both sides.
KEEP
Grandma's Notebooks
All My Notebooks & Journals – sorry, never getting rid of those
Some books
My Create 365 Hole Puncher <3
My Old Macbook Pro – it has Photoshop on it
A photo album from my Dad
SELL / GIVE AWAY
Old Glasses (been meaning to give those to an optometrist for months now!)
Blank DVDs – anyone interested?
Some office organizers
All the seasons of LOST
Smallville Seasons 2, 4, 5, 6, 7, 8, 9 (hardest thing on this shelf to give away)
Instax Camera – could make a great Christmas gift for someone?
Sheet Music
Music Books – up for grabs
Some books – also up for grabs
All my magazines – I have been holding on to 6-7 of them but they need to go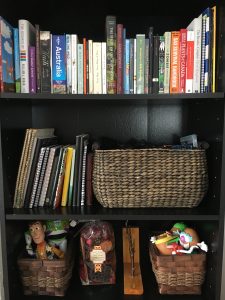 I am actually pretty impressed at how much stuff we were able to downsize just on that one shelf! We emptied almost two full shelves! I had to put a basket in place to hold the notebooks, which was fine because it was looking cluttered in its original spot.
Next up was a wooden stand my dad built for us a few years ago. Basically, we had lots of junk or stuff that needed to be sorted on there, so we finally went through the whole thing and now everything is nice and tidy. We threw out lots of random papers and reorganized our video game consoles and the likes. I made so much room I was even able to fit a full basket of my knitted and crochet items!
The only other thing that we currently have in our living room is an old antique dresser that Max got from his aunt's roommate – La Sagouine, for all my Acadian friends! I went through each drawer carefully, although it was already pretty well organized and I only threw out a couple of old receipts for my yarn.
And there you have it, another room in our house has been downsized!
If you've recently done some downsizing yourself, let us know in the comments below. We would love to know what you find the most difficult to get rid of, or even to go through and sort.