You've heard the saying, "It's about the journey, not the destination." Well let me tell you that when travelling to Australia, it is definitely about the destination, not about the journey.
For those of you who were not aware, my Australia dream vacation begins today. Or at least, the travelling to get there begins today! I boarded the first flight in Moncton at 5:50AM this morning. First connection is in Montreal with a 3 hour layover – just enough time to get through customs and relax in their new airport furniture.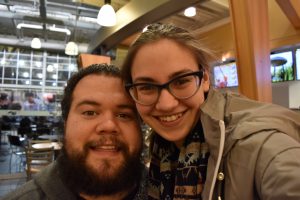 —
Womp – nevermind. More like a 6 hour layover. I guess I'll be grabbing a lunch here as I wait for my delayed flight to Washington, DC. The plane's sensors came on, not quite sure what the problem was exactly, but it took the technicians a while to check it out, and then around 10:15AM (Montreal time) they let us know it would be another hour an a half. So I'm just sitting here in the airport typing away to kill some time.
If all goes as planned – because I was supposed to have a 4 hour layover in DC anyway, so I shouldn't be missing my next flight – then I'll be heading to LA pretty soon and I am so excited!
—
Well shit. Make that a 10 hour layover in Montreal and cancelled flight to DC! Good news though: I was able to get rebooked on a flight straight to LA instead! Another guy who was waiting in line to be rebooked asked me where I was going and I explained what had happened at the counter when I rebooked to get to Sydney. He was so pumped – we were doing the same trip.
Meanwhile, now that I had even more time to kill, I decided to go scavenging for somewhere to eat dinner or have a snack to hold me over until we got to LA.
—
Side note: I had sushi for lunch. And I actually ate the whole thing. Like, for the first time… ever.
—
But let's get back to the story. I decided to treat myself and go grab a beer at one of the airport pubs. It was relaxing. I ordered some (OVERPRICED) fries to go with it. Good afternoon spent at the airport, not too worried about the problems and last minute changes.
Only after I had paid did I realize that the agent that rebooked my flight never offered me any compensation – this isn't as selfish as it sounds, they had offered food vouchers to a bunch of other people. So I went back to see the lady at the counter and lucky me, it was the same lady who had rebooked me! She remembered me, so I asked if it was possible to receive food vouchers due to the cancellation, since I had seen/heard other employees offer them to passengers on the same flight. It doesn't hurt to ask, right? And what do you know, I got three $14 CAD vouchers for food, valid for 24 hours. Too bad I hadn't thought of that before ordering those stupid fries, but ah well!
I went to spend one entire voucher at Starbucks. Why not – it's free!
After all this, I finally went to sit down at the new departure gate. I found my friend sitting by a charging station and he offered to let me charge my i-phone since he had already charged his for a while. I graciously accepted and we talked and talked until our flight was ready to board.
—
Side note: It's weird how all solo travellers seem to have this connection between them. Like it's just so much easier to approach one another. Everyone is willing to help out or answer questions or lead the way. How interesting.
—
The flight to LA was pretty good, no hiccups whatsoever. The only downside was that I began feeling queasy about half way through because I had tried writing in my journal – bad idea. (More about that later…)
When we landed in LA, I didn't spot my friend right away so I went to see if I could figure out what gate we were meant to wait at for our connecting flight to Sydney. Nothing. Huh, that's weird, I thought to myself. I looked around and there was another girl travelling alone who seemed to be wearing the same confused look as me. We looked at each other and she asked me where I was going. Surprise, she was also heading to Sydney! My friend from Montreal joins us and we are now the three amigos. We do our best to navigate through the LAX Airport – not a small feat of accomplishment, let me tell you that!
We went to ask for help to make sure we were headed in the right direction. Seemingly, yes, we were walking the right way, but we still had much walking to do. Ugh. And here I was, the only one with a big backpack to lug around. I was lucky enough to be able to keep up with their fast pace, and we made conversation on our way to terminal 7.
Turns out the third amigo, Catherine, is actually living in Australia right now. She was returning from a vacation home in Montreal. God what I wouldn't give to get the opportunity to work in Australia!
But anyway, we found our way to the gate and even found 3 empty seats gate so we could wait for our final flight together. I offered to buy them something to eat since I still had two vouchers that would expire that night. Hugo (the first amigo) politely declined. I looked at Catherine, hoping she'd consider the offer for free food instead of me throwing it away, or even worse, buying lots of food and not being able to eat it!
She agreed and so we all walked to the mini food court area together. She ended up choosing a vegetable and pita & hummus plate – I should have picked the same. I regretted it later when my food was ready. I had ordered a mini mac & cheese with carrot sticks, and let me tell you that the portion was not mini at all! It also made me want to puke my life away – because of the nausea, not because it was absolutely disgusting. Lol.
I tried to eat a few bites and managed to eat all the carrots sticks with some of Catherine's left over hummus – yum. Then it was basically time to board the plane!
I got to my seat and put all of my belongings away – that is, except for the nausea pills. I made sure to take one before departing so hopefully I wouldn't hurl. Boy, how wrong I was.
It doesn't help that those pills are only good for so many hours. And the flight was +15 hours long. Well you probably guessed it – or read it on Facebook – by now… I puked. Twice. Blah!
OK, enough of the gross stuff.
The good stuff: they actually offered three full meals on this flight! United Airlines, I am impressed. Another good part: I was able to fall asleep right as soon as we took off. AND – sleeping made me feel less sick. Woohoo!
Downsides: I didn't sleep for that much time, so the lasting effect of "feeling better," quickly dissipated. Also, one of the flight attendants was a giant biatch. Like, to the point where I was debating talking back to her in my "madame" voice. The first time I thought I was going to be sick, I was waiting for the washroom – I actually had to pee really bad, but I also figured I'd rather puke in there than at my seat. This blond flight attendant looks at me and says, "Ma'am, not in here!" Like… OK, where the hell else am I supposed to puke? Lucky her, I did not vomit until I was safely sealed off in the washroom. When I am done, I ask the attendants for some water, and where it is I could dispose of my little bark bag. That same blond lady looks at me, appalled, and says I cannot throw that out in here where the rest of the garbage is. She proceeds to walk away, not offering me anything to drink, or a napkin to wipe my face. Fortunately, there was another lady who had MUCH better people skills – probably a mom, or mom-type woman. She was extremely helpful and even came to check up on me. Oh, and then when I was exiting the aircraft, she asked if I was feeling any better. That, ladies and gentlemen, is good service.
So long story short, I puked twice during that last leg of the trip. The second time not as pleasant, especially because it was at my seat. But the young couple who were sitting next to me were super helpful. They called the attendants for me – I had no tissues left, no water and part of the barf bag was ripped – and I had the unfortunate luck of receiving "help" from the blond lady. She did not bring me tissues, simply a garbage bag that she insisted I tie myself, and then shooed me into a bathroom and said, "Good luck." … I don't even know how to react to that.
The young couple I was sitting with also offered to give me some anti-nausea medication they had, and I accepted, thinking maybe their stuff is stronger than mine. And it did actually help. I was honestly expecting to get sick a third time, because the nausea never really subsided until I got into the airport and started walking around.
And speaking of the airport, turns out I had left the plane in a hurry and forgot my brand new Camelbak water bottle! NOOOO! I screamed on the inside and tried to convince myself it wasn't a big deal. I can just buy a new one. Ugh. But that meant I would have to go shopping, and I really did not want to go shopping. Disappointment started to seep in when an employee was not very helpful in giving me instructions on what to do if I had forgotten an item on the plane. After passing customs, I spied another employee who seemed more informant, so I went up to him and explained everything again. Man, do I ever have a good gut feeling about people sometimes! I basically had asked helped from the guy whose job was to do exactly that. He radioed somebody right away, although they did not answer. He kept calling other people to get a hold of the airline employees on that specific flight and was told there was a 20 minute wait. I said I was in no hurry, I would rather wait and get my water bottle back so as not to go to more trouble of finding a new one. The man came back much less than 20 minutes later and said he got a hold of them, they are going to look now, it should take 10 minutes. Again, much less than 10 minutes later – boom! My water bottle in his hands! Sometimes, you just gotta ask the right person.
By now, it is Feb. 1st 2017 in Sydney, Australia. The time is approximately 10:30AM. I walked out into the airport's main lobby and I ask for help on how to get to my hostel. When I had e-mailed them, the two suggestions were to either take a shuttle bus such as Airbus ($15) or take the train over ($18). Knowing me, you are surely aware that I went with the cheaper option. But before heading out to the bus area, I decided to stop and check the few shops in the airport. And what do ya know – there are two phone companies who sell SIM cards and prepaid plans right there inside the airport! Well that's gonna save me a good walk!
I wait my turn and explain to the employee what kind of plan I'm looking for. Valerie's sister Vanessa, who lives in Brisbane, had previously told me to expect to pay about $50 for 4 GB of data and enough minutes to phone home every night of my trip. I couldn't believe my eyes when the phone shop employee showed me the specials: a SIM card, 8.5 GB of data, unlimited phone and text inside AUS, and 1090 minutes of international calls – FOR THIRTY DOLLARS!! What a steal!!
As soon as my new Australian number was all set up, I called Max right away. Maybe not the best place to try to have a conversation with your boyfriend, but I was beginning to get really homesick after all that travelling/not feeling well and having no one to comfort me. It was great talking to him, even if it was fuzzy and just for a few minutes.
Then it was time to take a shuttle to my hostel! First travel challenge: a man from another company (not Airbus, like I had planned on taking) walked up and blocked my passage, asked where I was heading. I put my brave face on and told him where I was going, but that I was looking to go with Airbus. He tried to convince me to take his company instead. I stood my ground and simply/calmly explained that I had planned to go with Airbus, could he point me in the right direction? And he kindly did.
The guy from Airbus, however, did not seem super impressed when I told him I was going to Eva's Backpackers in Potts Point. Apparently, it's a little out of the way, further than the other hotels where he was dropping off his other customers. I don't remember really saying anything to convince him, but he reluctantly said he would take me anyway.
As we were driving, me, two senior couples, and an Asian lady, a thought hit me. Dammit, you didn't ask for the fare rate before getting in. What if he charges double the amount he charged the others? Am I going to have to argue for this?! Gah!
I try not to worry as one by one, the other passengers disembark to go to their respective hotels. My hostel was actually not THAT far, but I understand that it was more within the downtown area, so traffic was worse – and it was already bad enough.
I got out and the man asked to make sure I had Australian cash. I reassured him I did, and asked how much the fare would be.
"Fifteen dollars," is all he said.
Huh. Well look at that. I was worried for nothing! I thanked him for going further to drop me off and left him a tip. I appreciated being treated fairly, even though I was a young woman, alone, who was obviously not staying in nice hotels like his other passengers.
You're probably wondering what my hostel looks like now, aren't you? Well, I was too tired to take any pictures yet, so you'll have to wait and see later on. For now, here is the description you get:
Quaint
Delightful
Very friendly and helpful staff
Nice small kitchen and dining area
Offered an early check in – HAZA
Love the fact that you need a code to get into the dorm area of the hostel
3-4 bathrooms per level, very practical
4 fans in a 10 bunk room, nice! (One of them is pointing towards me)
Free towels & linens
Storage lockers big enough to fit all my stuck, and then some
A beautiful furnished rooftop area
A bed. Oh, a lovely bed…
MUST NOT NAP YET!
I convince myself I can't go to sleep yet or I won't be able to sleep a wink during the night. Plus, I need to go out and grab groceries. But not before using the internet for a while and calling my wonderful boyfriend one more time – I miss him already.
After an hour or two, I finally force myself to leave the hostel and get some groceries done at a nearby supermarket called Woolworth's – Wolly's, for short. And what a short walk it was!
—
SPOTTED ON THE STREETS OF SYDNEY, AUSTRALIA: A man getting into a cab whose backpack is wide open, containing not one, but TWO dildos!!
I almost died laughing, I swear to God. And there I was, alone, with no one to share this with! Well, except all of you now!
—
Australia is beautiful so far. Except I haven't even really seen it. I will give a better detailed explanation within the next few days, after I've actually had the chance to explore the city of Sydney much better than one walk to the supermarket where I encounter dildo-man.
Cheers for now! Please feel free to leave me some tips or comments about anything Australia-related!
xo