We've all heard the quote before, "Do one thing every day that scares you," or "Don't be afraid to say yes." I've always teetered on whether or not I agreed with it. I understand the premise behind it – don't let the fear of losing keep you from playing the game. And when you look at it that way, you have to believe that it's worth something, that we need to push ourselves every day (or as often as we can allow ourselves to be) to be better than we believe is possible. That's how people achieve greatness. That might even be how we find happiness.
But where do we draw the line? It has been said that if something both scares you and excites you, then it is something worth doing. Most of the time, this makes a heck of a lot of sense. Personally, in the past few months, I have been trying to be kind to myself and to respect the things that I actually want and need for myself. What I mean by this is that I no longer force myself to say yes to things I know I don't actually want to do.
You might think it weird that all of this was my thought process when a friend asked me if I wanted to try the new Rock Climbing gym with him, but that's what happened, because I was torn about what to say. I had to decline more than once, due to circumstances out of my control, but part of me wondered if I should just let it be and not mention it again, because I wasn't even sure if it was something I wanted to do. And why should I force myself to do something I don't want to do? Unless that I'm just letting fear get in the way, in which case, I should push myself to do it even though it makes me uncomfortable…
After much arguing with myself, I took the leap. I saw an ad for a Girls Night event going on at that Rock Climbing Gym, and figured it was a sign. I tagged my friend in the comment section and we made plans.
Not gonna lie, I almost completely forgot about those plans because I didn't write them down. Thank God for Facebook advertising – a lightbulb lit up over my head and I remembered about an hour before our set meet-up time. I cancelled all my other crap, apologetic to others because I had just realized I had double-booked, and hurriedly got changed. I wasn't too sure what to wear, but I figured gym type clothes were a good option. I scarfed down some supper and sent a text to my friend to give him a heads up that I was heading out.
I only got lost twice on the way there – this place is way out in the industrial park, really odd place, but I was impressed by what I saw when I walked inside. It was well designed and had different climbing options such as bouldering (not attached to anything), rock climbing with hardness, and my personal favourite, an Augmented Climbing Wall. More about that later.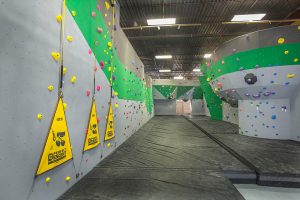 I was surprised by the amount of people who were there, but I suppose it made sense given that they were offering free access to all women that night. My friend came to find me right away and kind of explained how it worked.
First things first – there's a waiver form to fill out. It was odd, I didn't remember ever signing something like this when I was young – nor do I remember my mom signing one – but I suppose it was a different kind of climbing gym, and I know requirements are a lot stricter now than they used to be. So I went online and I filled out the form, waiting for my turn to speak to the employee at the reception desk.
After the waiver is all done with, I guess maybe normally you would pay, but it was free, so the guy working offered to get me some climbing shoes – at no extra cost – and some chalk. I accepted and went to find a spot to put my bag and my normal shoes after having changed into the climbing shoes.
I saw a lot of women crowding around what I assume was another employee giving them a little lesson on how things work, so I waited until they were done and went to speak to her. She briefly showed me how to climb, how the routes were colour-coded and also numbered from easiest to hardest, and how to jump/fall down safely. And that was it. I was free to do my thing. Oh God.
Ok, why am I all of sudden slightly scared of heights??
I went to find my friend and we chatted a little bit. I told him I had no idea what I was doing. And also I was kind of expecting it to be the attached kind of rock climbing, not the free form kind. The whole falling thing made me nervous. I mean, you'd think I'd be fine, I've done Tree-Go a bunch of times – even once in the dark! But the thought of actually falling, with nothing saving me, hit me pretty hard.
I should probably note that all the floor was covered with very – VERY – soft foam, and you would have to fall pretty badly to hurt yourself. And then I overheard my friend telling a stranger that someone he knew fell and broke her ankle. Well. Alrighty then.
I still decided to give it a go, see how far I could push myself. I obviously only tried the easiest one, making it a little past half way. It was pretty packed by now so you had to wait a while between climbs.
I looked over to the three routes with harnesses and thought maybe I should do that first, to get the feel of climbing with the security of the harness. There was one open spot so I got all set up and climbed next to two other women. I asked them how they found it, especially since it was an "auto-belay" – which I assume means the rope thing automatically drops you down slowly. They said it was scary the first time, but then you get used to it and know what to expect.
They were pretty much right. I climbed halfway up and then let myself go. There was a small moment where it felt like nothing was going to stop you from falling, but then all of a sudden the pulley catches and you slowly start hopping down the wall. I chatted with those two ladies for a bit and we climbed up and down a few more times, although I never did make it to the top.
I met up with my friend again and I watched him try some of the more challenging routes. Apparently, they had just done a complete gym reset, which means all the routes were new and exciting for those who liked to come every day.
One thing that caught my eye was not all the experienced climbers, but rather this young little blonde girl who was giving it all she had. Wow. I should also mention that this girl's arms were as big as mine – and she was a small child. You could tell she just LOVED doing this, and spent hours going up and down weird and challenging routes. I couldn't help but think how proud her parents must be, that she is not afraid, that she isn't letting stereotype stop her from doing something she really liked, and that she was working hard to get better every day. Now that is good parenting.
I was pretty exhausted after a while, but I really wanted to try the games they had on what was called "Augmented Climbing Wall." Long story short, it's a climbing wall with a projector, and the wall itself acts as a touch screen. There's a monitor on the bottom of the pole that holds the projector and it lets you choose what game or challenge you want to try. The two women I had been climbing with were just coming off the wall and I asked them how it worked. They briefly explained you could choose levels and different games, depending what you liked doing. One of the women, who later introduced herself as Sophie, offered to play a round with me. So we hopped on the wall and started playing a round of "Whack-A-Bat!"
And the coolest part of all this – they do live recordings and send you an e-mail with your video in a private link on Youtube so you can watch it again! Check out Sophie and me getting the 2nd best score in the game so far!
I swear, I don't remember the last time I had this much fun. And then those initial thoughts came flooding back. Well, I guess I knew what the truth was after all – I was in fact scared, and maybe what I needed was to push myself, to get out of my comfort zone and do something a little bit scary.
I smiled at the realization.